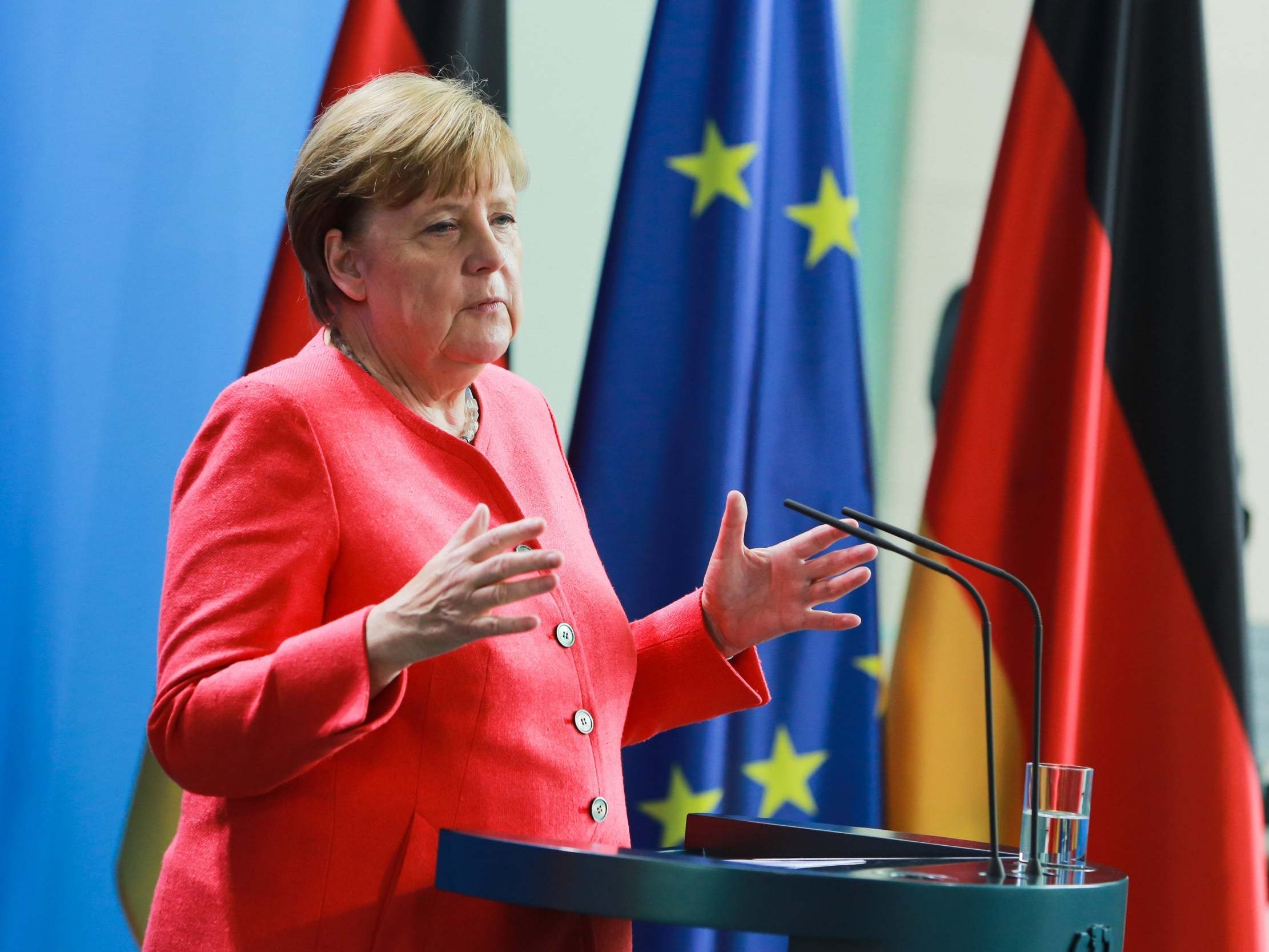 The coronavirus pandemic is far from over, German chancellor Angela Merkel has warned, amid growing concerns that fresh outbreaks could lead to a second global wave of the virus.
The German response to the virus has been praised across the globe after an intensive testing regime revealed high numbers of infections but relatively few fatalities compared to other European nations.
Now as the country is due to take up the presidency of the council of the European Union – a rotating role last held by Croatia – Ms Merkel has said responding to the health and economic impacts of the virus will be her top priority.
"The risk posed by the virus is still serious," Mrs Merkel said in her weekly video address to the nation. "It's easy to forget because Germany has got through the crisis well so far, but that doesn't mean we are protected, that the risk has been averted – that is not the case, as is demonstrated by these regional outbreaks."
"Take it seriously", she added, "because it is serious."
Her warning comes after a rise in cases in Germany – and risk of continuing exponential growth in cases elsewhere in the world.
German authorities renewed a lockdown in a western region of about 500,000 people last week after about 1,300 slaughterhouse workers tested positive for Covid-19, in an attempt to prevent the outbreak from spreading across the area.
Meanwhile across the Atlantic two of the largest US states reversed course and reinstated some restrictions amid a surge in new infections. The daily number of confirmed infections in the country surged to an all-time high of 45,300 on Friday, eclipsing the previous high of 40,000 set the previous day, according to Johns Hopkins University.
Newly reported cases per day have risen on average about 60 per cent over the past two weeks, according to an Associated Press analysis. While the US rise partly reflects expanded testing, experts say there is ample evidence the virus is making a comeback, including rising deaths in parts of the country and higher percentages of virus tests coming back positive.
Meanwhile India reported more than 18,000 new cases, pushing its cumulative total over the half-million mark, the fourth highest globally behind the US, Brazil and Russia.
And China – once the epicentre of the pandemic but which had all but eradicated the virus – saw a rise in cases one day after authorities said they expected an outbreak in Beijing to be brought under control in the near future.
The National Health Commission reported 17 new cases in the nation's capital, the most in a week, among 21 nationwide.
South Korea, where a resurgence in the past month has threatened to erase the country's earlier success, reported 51 new cases, including 35 in the Seoul metropolitan area.
Additional reporting by Associated Press
Source: https://www.independent.co.uk/news/world/europe/coronavirus-angela-merkel-europe-germany-lockdown-us-india-china-a9589586.html