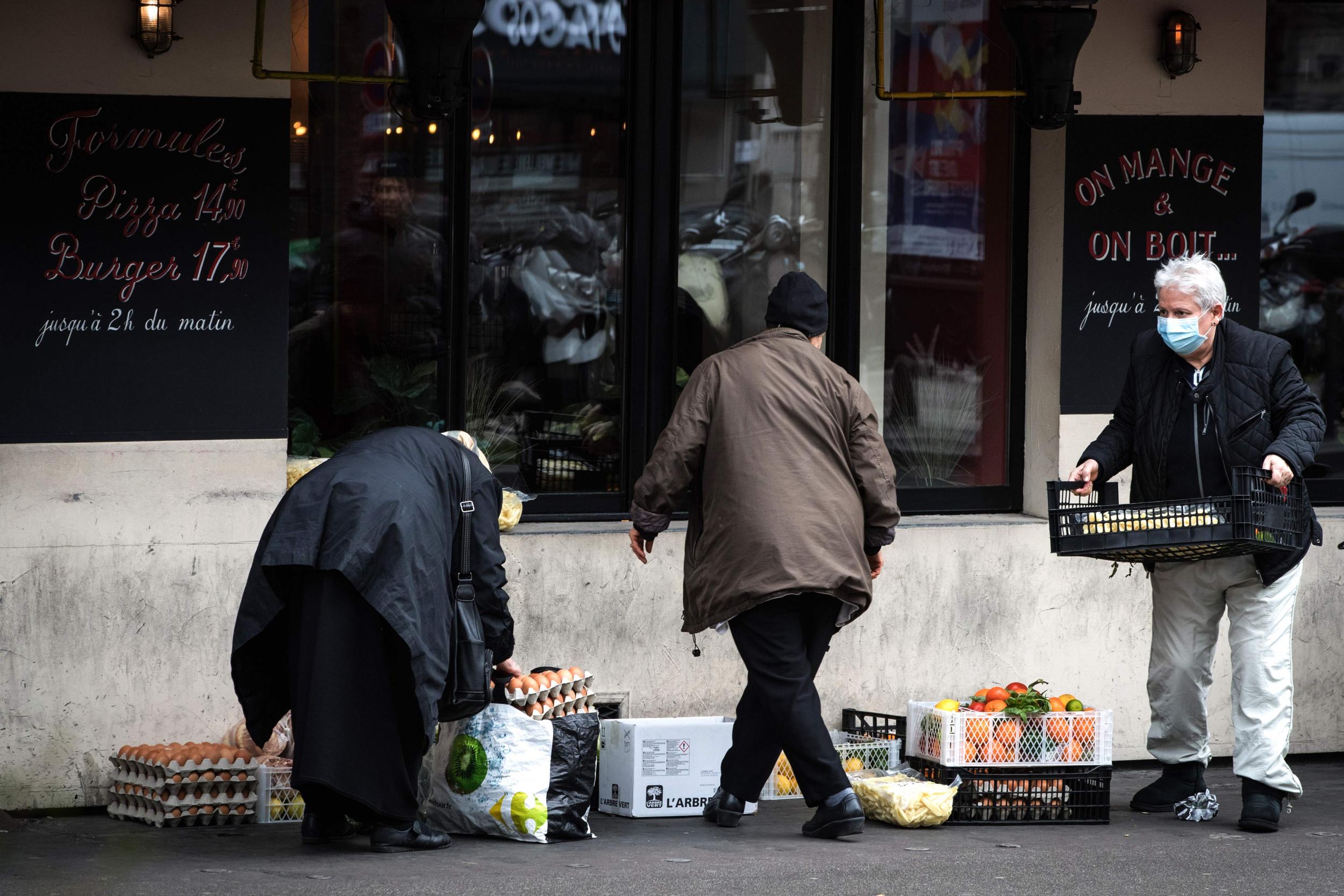 Xavier Denamur is used to bustling between the five popular bistros he owns in the Marais district of central Paris, managing a team of nearly 70 waiters and chefs and keeping tabs on the phalanx of patrons who crowd his tables, elbow-to-elbow, year round.
But on Monday, Mr Denamur was scrambling to deal with a situation that he said resembled wartime conditions: overseeing the abrupt closure of his businesses as Emmanuel Macron prepared to move France to a quarantine. It was soon official: The quarantine will start at noon on Tuesday.
By midnight, Mr Denamur would have to empty his refrigerators of almost €20,000 (£16,300) worth of chevre cheese, beef bourguignon, pate and other delicacies that would spoil by the time any quarantine ended, and would now have to be given away.
"We knew there would probably be a shutdown, but I didn't think things would happen so fast," he said, pressing two mobile phones to his ears as he and a handful of employees hurried to empty refrigerators and wipe the bistros down before shuttering indefinitely.
As governments across the world shut cities and close borders in a race to stay ahead of the coronavirus epidemic, Mr Denamur was among thousands of business owners trying to manage the chaos and help his employees, while calculating how to stay afloat.
Outside his flagship bistro, Les Philosophes, the normally traffic-clogged Rue Vieille-du-Temple was empty under a leaden sky, save for a few people with suitcases rushing to catch trains and hail taxis to flee Paris. Mr Macron announced a 15-day lockdown on all but "essential" outings, starting on Tuesday.
"It's a catastrophic situation," Mr Denamur said, surveying the ghostly interior of Les Philosophes, where cane-backed chairs and marble-topped round tables, normally outside on the pavement, were piled into teetering stacks. "I need to make sure that everything is taken care of."
Similar scenes of frenzy have unfolded across France at restaurants, shops and commerce of all stripes after the government ordered all non-essential businesses to close until further notice.
France's corporate giants were swept up in the tide ahead of Mr Macron's announcement on Monday. Big employers including car manufacturers Renault and PSA Peugeot Citroen, as well as tyremaker Michelin, announced they would halt French factory operations. Air France said it would put all its employees on part-time work for six months.
If the prospect of an extended clampdown left companies reeling, it is especially daunting for smaller employers like Mr Denamur, who have little time to prepare for potentially large losses and ensure workers aren't left in dire straits as they are forced to stay home.
"It would have been more intelligent to warn us earlier," said Mr Denamur, who had just stocked up on cheeses, meat and vegetables that he suddenly had to get rid of and count as a loss.
To minimise waste, he asked his employees to come in on Monday to grab whatever food they could. Residents lined up as he donated the rest.
While the quarantine is set for two weeks, Mr Denamur said the situation was so uncertain that he didn't count on reopening before June. "The Roquefort cheese might last that long, but the rest of our food won't make it," he said, adding that he had called his suppliers to cancel all orders until further notice.
Mr Macron said he would do "whatever it takes" to support workers and especially the small and midsize businesses that form the backbone of the economy. "No French company will be exposed to the risk of collapsing," he said Monday.
He announced €300bn (£244bn) in state guarantees for companies' loans, tax exemptions and a suspension of rents and electricity bills for struggling small businesses. The state will pay firms to keep people partly employed so as not to swell the jobless rolls as Europe stares down the barrel of a recession.
The pledges are part of a concerted scramble by EU countries to prevent uncontainable damage to the economy as businesses shutter at alarming rates. The European Commission and governments have unveiled fiscal support measures worth nearly €1 trillion (£816bn) combined.
But guarantees sounded like so much noise early on Monday as Mr Denamur assessed the future of his business. As of midnight on Saturday, his employees were put on temporary unemployment, with just four hours' notice following the government decree.
Mr Denamur, who acquired his first restaurant on the street, Le Petit Fer au Cheval, 30 years ago, was in the Lot-et-Garonne region of southern France, where he sources produce, cheeses and meats, when he heard the news. He rushed to book a train to Paris on Sunday.
Many of his employees have worked at the bistros for years. Mr Denamur said he would continue to pay their salaries, which he reckoned he could afford for about two months. He encouraged them to use up paid vacation first, after which they would be eligible for technical unemployment, which pays the equivalent of France's monthly minimum wage.
Despite the government's pledge to backstop employers, Mr Denamur said it wasn't clear how or when he could obtain promised financial aid.
"The government says it will reimburse businesses for putting people on reduced work schedules," he said. "But my restaurants are closed – the employees can't work at all," he added. "The government needs to be more clear. Workers need to be reassured."
Mr Denamur had arranged for his accountant and an inspector to hurry in on Monday morning to assess his financial situation.
He lifted a metal floor grate and descended to the basement to inspect a refrigerator. Thousands of euros' worth of chevre cheese had just been delivered, while milk, pork pate and Spanish ham would expire in two days. Comte cheese the size of car wheels wouldn't outlast a quarantine, either.
Those were suddenly sunk costs, and would have to be written off. Mr Denamur phoned Tout Autour du Pain, a bakery, to see if they were willing to buy anything. Around 9am on Monday, Benjamin Turquier, the owner, arrived in a small van.
Mr Turquier bakes 2,000 baguettes a day, 1,600 of which go to restaurants, he said. When the order to close restaurants came on Saturday night, he lost that business instantly, and doesn't know when it will return.
While his bakery can stay open because it is considered an essential business, "economically the hit is going to be huge," he said.
Offers of credit hardly seemed useful at a time like this, Mr Turquier added. "We are told the government has a plan for easy loans. But I wouldn't take on a loan right now — how would that help?"
As he spoke, Mr Denamur's employees filtered in to take food emptied from the refrigerators.
"Keep your distance from one another, to maintain health safety, please!" he shouted as the employees converged on packs of salmon, meats and crates of milk and cheese. In the kitchen, two workers packaged up beef bourguignon and vats of pre-sliced potatoes. "This way you'll be stocked up at home for the long haul," Mr Denamur said.
The New York Times
Source: https://www.independent.co.uk/news/world/europe/coronavirus-france-lockdown-paris-bistros-close-donate-food-a9405971.html