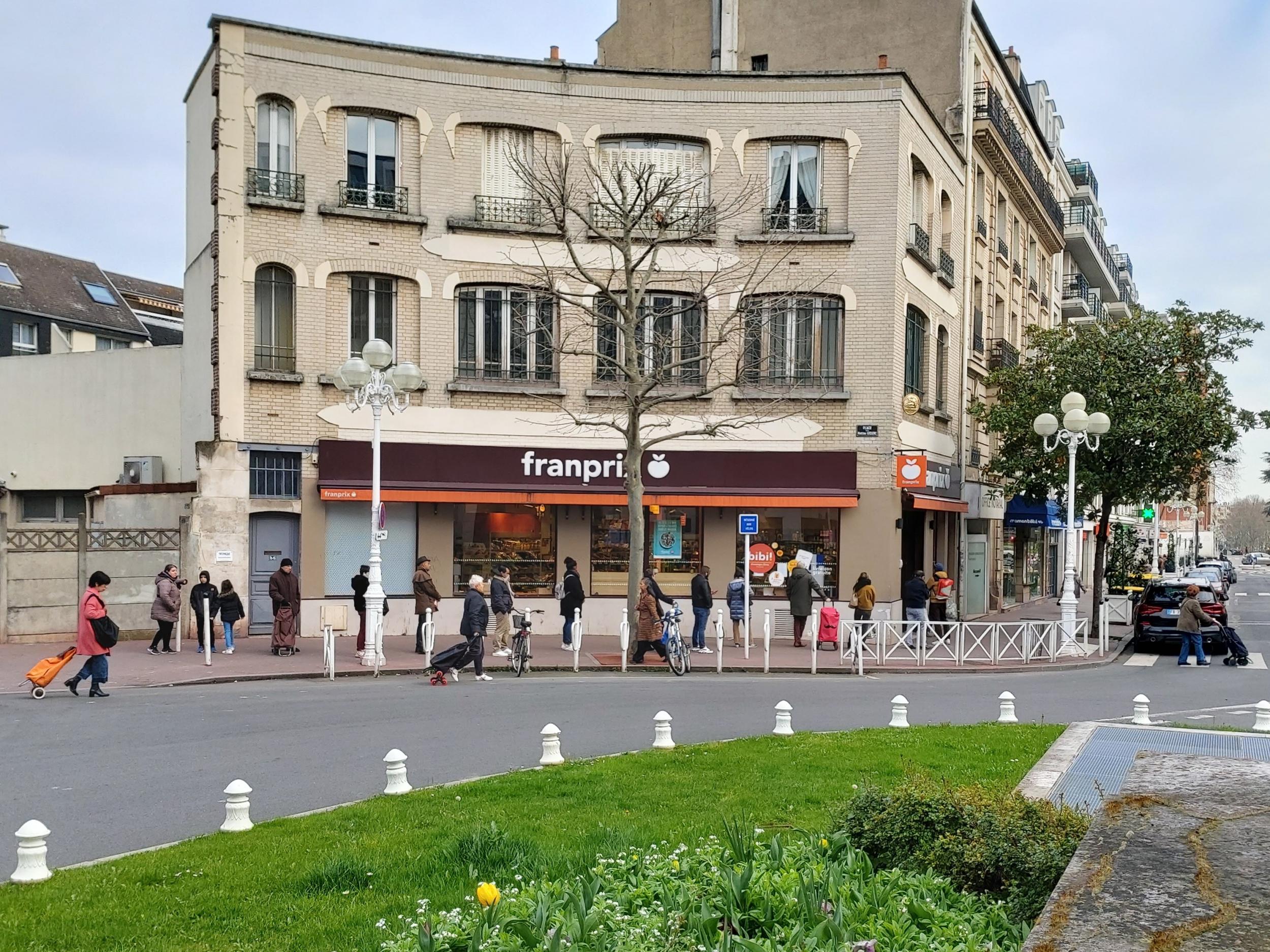 In his televised address announcing a nationwide lockdown on Monday, French president Emmanuel Macron used the phrase "we are at war" six times. "We are not up against another army or another nation," he said. "But the enemy is right there: invisible, elusive and advancing."
His dire wording was to emphasise the severity of the coronavirus outbreak – with more than 7,500 confirmed cases, France is the seventh worst affected country in the world – and to condemn the seemingly lax attitude the French public had taken towards it up until that point. 
Social distancing and other government containment advice had been widely ignored in Paris over the weekend, with families and friends gathering in parks and markets across the capital to enjoy the good weather. 
But amid the normality, panic was beginning to appear. Rumours that the French capital would soon be under a military-enforced quarantine were shared within local Facebook and WhatsApp groups on Sunday, and when reports emerged on Monday that Macron would be making an announcement, queues quickly formed at supermarkets and pharmacies. 
Shelves were emptied of essential items like toilet roll and baby formula and soon even sweets were in short supply. By Tuesday morning, with just hours to go until the 15-day lockdown came into force, supermarket lines reached out of the shops and into the streets. 
Others spent their final hours of freedom fleeing the capital in a mass exodus that saw motorways clog with traffic and train stations fill with closely packed crowds of people.
But despite Macron's rhetoric, the measures were not as severe as some had feared. People would be forbidden from leaving their homes without good reason but there would be no 6pm curfew. In a media briefing on Tuesday, government spokesperson Sibeth Ndiaye addressed the concerns, saying she did "not envisage a curfew at this stage".​
The government has promised that anyone violating the new measures will be punished, with individual fines ranging from €38 to €135.
Attitudes towards the lockdown have been mixed, with some residents claiming such draconian restrictions are unnecessary, while others fear it may be too little too late.
As the new measures came into effect at midday on Tuesday, many people were still out on the streets, some gathering in groups to chat casually about the lockdown.
"I haven't got supplies for 15 days and I haven't bothered buying a face mask," said Jean-Pierre Mahiet, an 82-year-old pensioner from Paris who witnessed the liberation of France from the Nazis.
"I plan to go out each day to walk around and do food shopping. I've put a baguette in the freezer, just in case."
How exactly Macron's new state of war should be interpreted seems to have divided the French public. 
Aurelie Thomas, 39, a pharmaceutical research technician who lives in the Paris region with her eight-year-old daughter, said she did not plan to leave her home at all for two weeks. "I don't need to go shopping," she said. "I've stocked up on food and I'm going to live off that.
"My daughter is asking a lot of questions and is wondering if we are at war. I am worried, especially when I see how people aren't respecting the confinement instructions, who are inconsiderate when they gather just as they did a few days ago. It is complete and utter incivism and that's what will cause thousands of deaths."
Thomas spent the first day of containment home-schooling her daughter Emma, creating a coronavirus-inspired video encouraging people to wash their hands.
As the world's most visited country, any global pandemic was always going to hit France hard. Since the first infection was reported last month, the growth rate has mirrored that of Italy – the hardest hit country outside of China.
Confirmed cases have been doubling every three days, with more than a thousand added to the tally on the first day of the lockdown.
Active cases vastly outnumber those that have recovered and the current death toll of 175 will probably rise over the coming days as overcrowded hospitals struggle to cope with hundreds of critically ill patients.
During his address, Macron said: "Never before in history has France had to take such exceptional measures in a time of peace."
Some restrictions are even more extreme than those imposed during times of war.
Cafes that stayed open throughout the Second World War have been forced to pack up terrace chairs and lock their doors until further notice.
"At least during World War Two we knew what we were up against," one temporarily unemployed waiter said recently. "Now we have no idea."

Source: https://www.independent.co.uk/news/world/europe/coronavirus-france-paris-lockdown-curfew-food-shortages-a9406646.html