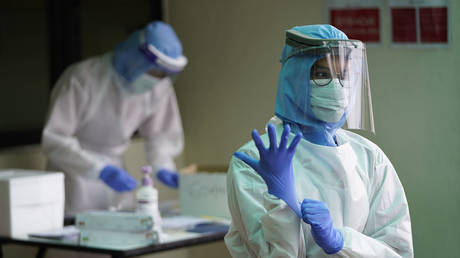 The number of confirmed Covid-19 cases around the world has soared past the 700,000 milestone, according to tallies carried out by Johns Hopkins University and the AFP news agency.
The total number of cases worldwide now stands at over 724,000, as several regional outbreaks have led to major spikes in the numbers, most notably in the United States. 
Authorities in the US are now reporting upwards of 143,000 cases, followed by Italy with 97,600 and China, the original epicentre of the pandemic, with 82,000 cases. The total number of deaths from covid-19 now stands at 34,026 as of Monday morning.
DETAILS TO FOLLOW
Source: https://www.rt.com/news/484454-worldwide-coronavirus-cases-700000/?utm_source=rss&utm_medium=rss&utm_campaign=RSS