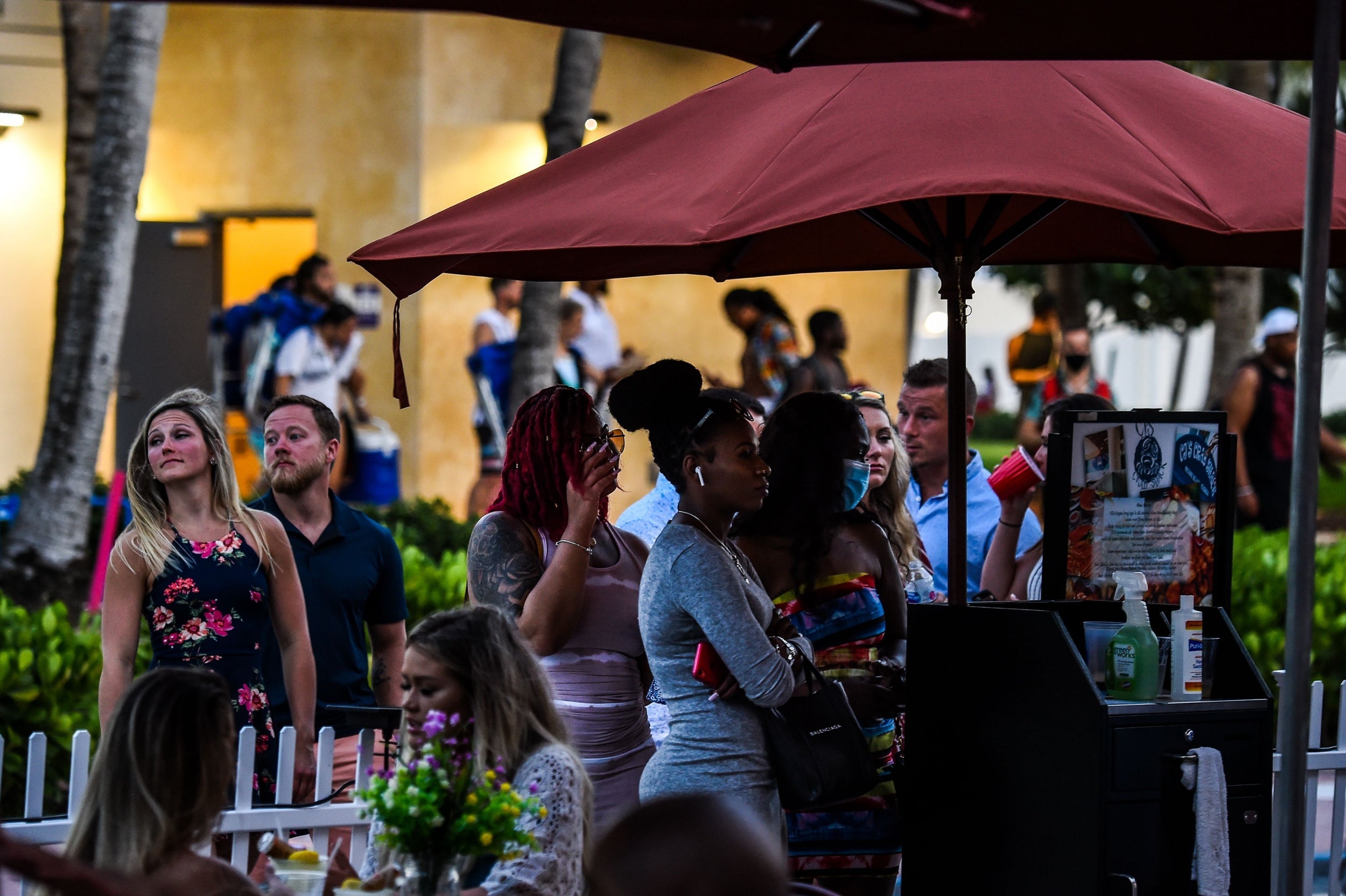 Florida banned alcohol consumption at bars on Friday as cases of the coronavirus began to spiral out of control.
The state announced a record daily new Covid-19 case count of 8,942 — almost double the previous mark set on Wednesday of 5,500.
State officials announced the ban of on-premises consumption of alcohol on Twitter shortly after the Department of Health reported the news.
Local officials in the state are also taking action to curb the spread of the virus. Miami-Dade County Mayor Carlos Gimenez announced he would sign an executive order closing beaches in the county over the Fourth of July weekend.
"I have decided that the only prudent thing to do to tamp down this recent up-tick is to crack down on recreational activities that put our overall community at higher risk," he said in a statement.
Governor Ron DeSantis does not plan to issue a statewide order requiring the wearing of face masks, saying this was best handled at the county and city level. Miami and other cities and several counties now require masks in public places.
The spike in cases is being largely attributed to young adults flocking to bars after they reopened three weeks ago. Many have ignored social distancing rules put in place by health officials.
Bars and restaurants were instructed to operate at 50 per cent capacity with patrons seated at tables placed six feet apart. Congregating at the bar or in other areas such as dancefloors is forbidden.
But many patrons and establishments have not been enforcing the rules, according to Business and Professional Regulations Secretary Halsey Beshears, who said the number of bars breaking the rules was overwhelming the department's inspectors.
"This was more than we could keep up with," Mr Beshears said, acknowledging that people were tired of being cooped up at home and perhaps thought the danger of the virus had decreased as the news cycle moved on.
"People in general just wanted to get out and experience a normalcy," he added.
There is no timetable for rescinding the order. Restaurants that primarily sell food can still serve alcohol to customers seated at tables.
More than 24,000 new cases have been reported in Florida in just a week, taking the state total to 111,724, with 3,366 officially recorded deaths.
With reporting from the Associated Press
Source: https://www.independent.co.uk/news/world/americas/florida-coronavirus-bars-alcohol-miami-beaches-closed-masks-a9589006.html