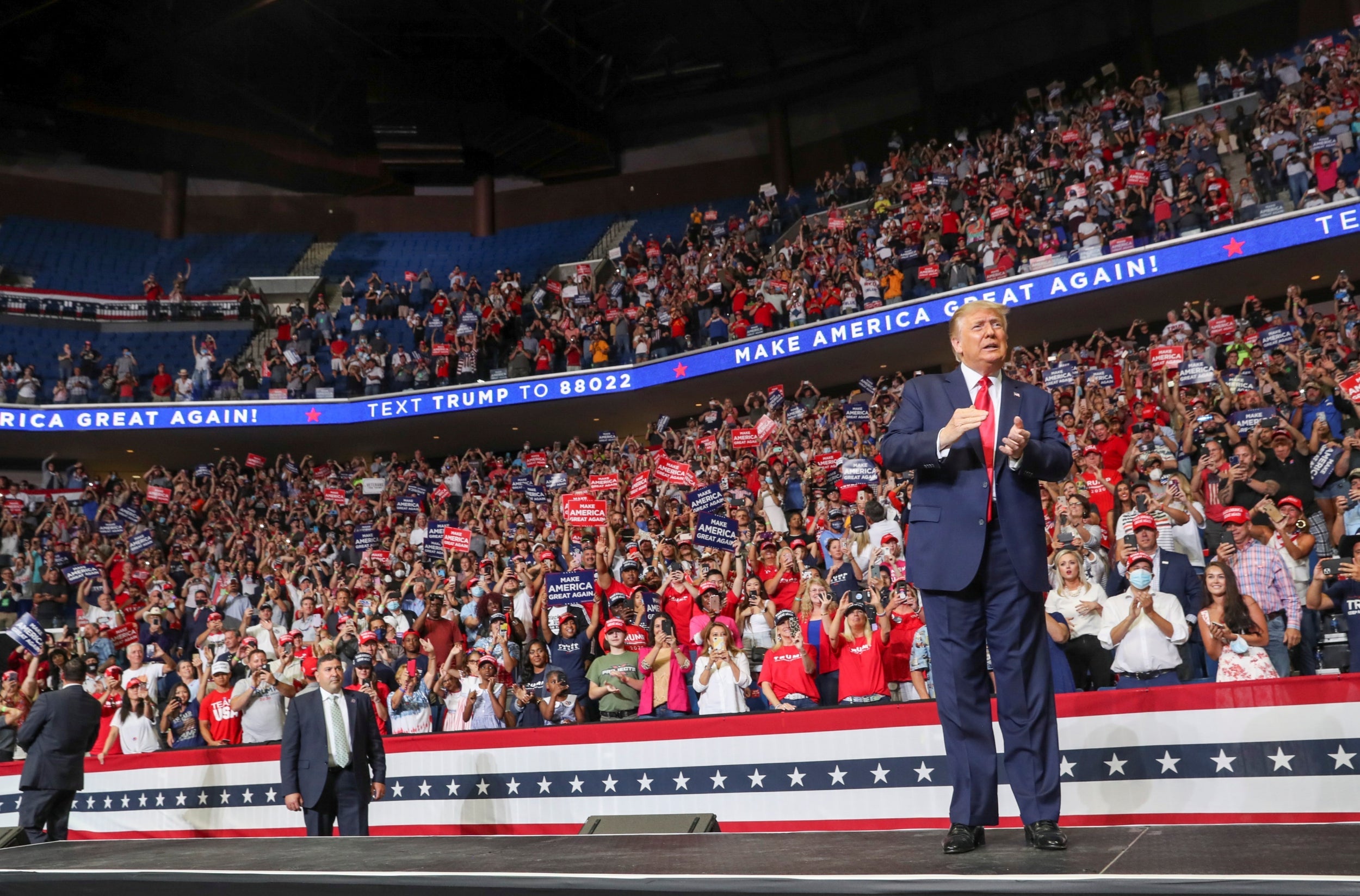 Less than a week after Donald Trump returned to the campaign trail with a lacklustre rally in Tulsa, Oklahoma, more than two dozen Secret Service agents have been told to self-quarantine as a precaution.
The order comes after six advance staffers who helped set up the rally – including two Secret Service agents – tested positive before the event even began. Two other staffers have tested positive since.
According to a report in the Washington Post, the service's Tulsa field office arranged tests for local agents involved in the rally. Service agents who were assigned to the event will now have to stay at home for 14 days.
In a statement, spokesperson Catherine Milhoan said that in spite of the quarantine order, the service remains "prepared and staffed to fulfil all of the various duties as required".
Mr Trump and his campaign insisted on holding the rally in spite of advice that gathering thousands of people in an indoor arena was highly unwise given the virus's continued spread. However, in the end, the arena was around two-thirds empty, and planned "overflow" speeches had to be cancelled when it became clear the venue would not in fact overflow.
It has been speculated that even some Trump supporters stayed away from the rally out of fear of contracting or spreading the virus, though there are also reports of organised anti-Trump efforts to snap up places with no intention of attending.
But whatever the reason for it, the sparseness of the audience dominated the post-rally coverage, reportedly leaving the president furious.
In the meantime, Oklahoma is seeing a surge in cases, with a 24-hour record of 482 confirmed on Wednesday and 80 people hospitalised over the past week. The state health commissioner has said the uptick puts Oklahoma in "unknown territory".
Mr Trump's use of the Secret Service has been a point of controversy before. It recently came to light that the president's own company has received more than $1m of taxpayers' money in the form of bills charged to the service for hotel rooms when the president's detail travels with him to his own resorts – including at high prices, despite claims to the contrary from the president's son Eric.
Source: https://www.independent.co.uk/news/world/americas/trump-tulsa-rally-coronavirus-secret-service-quarantine-a9585526.html