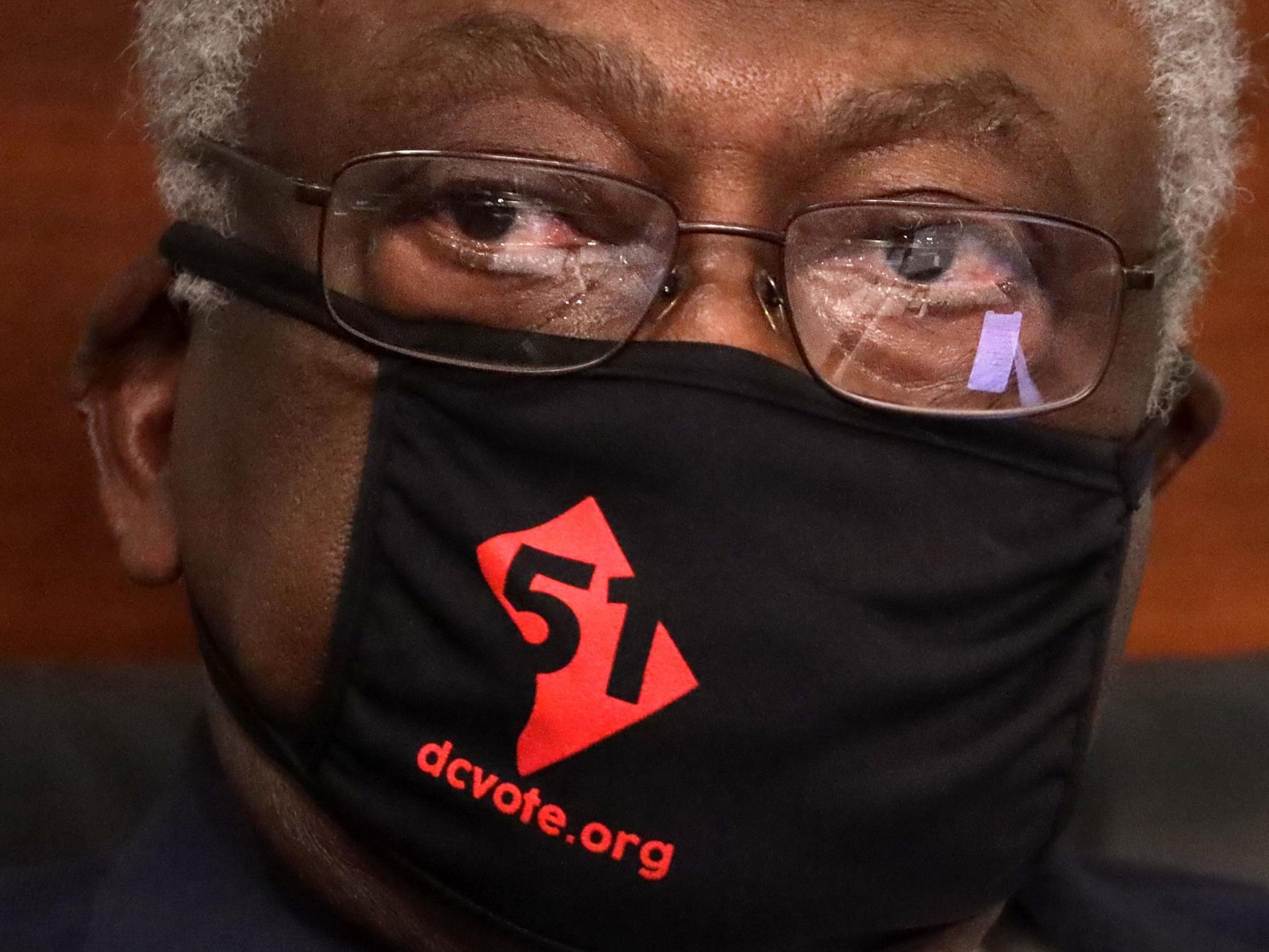 Democrats in the House of Representatives are threatening to block the participation of Republicans in coronavirus meetings if they continue to turn up to meetings without face masks.
Senior Democrats on the select subcommittee on the coronavirus crisis issued the warning after some Republican lawmakers turned up to a hearing on Friday without face coverings.
Subcommittee chair Jim Clyburn sent a letter to House minority whip, Republican Steve Scalise, said that any member of Congress who refuses to wear a mask will not be recognised in a coronavirus meeting or hearing.
"Going forward, as long as the attending physician's requirement to wear masks is in place, I will not recognise any member of this Subcommittee to participate in person in any Subcommittee meeting or hearing unless the member is wearing a mask and strictly adheres to the attending physician's guidance," the letter read.
In an earlier draft of the letter, Mr Clyburn wrote that he would not "permit" Republicans in coronavirus meetings, but modified it to "recognise" for the final draft, according to Buzzfeed.
During a hearing on Friday, Mr Clyburn reminded Republican representatives who were not wearing face coverings, that they were violating a mandate from the attending physician.
"For the United States House of Representatives meetings, in a limited and closed space such as a committee hearing room for greater than 15 minutes face coverings are required," Mr Clyburn added, referencing the official advice.
"And we're not going to have another meeting in a confined space if we're not going to abide by this. I will stay in the safety of my home as I would ask all you to do," the congressman added.
During the meeting on Friday, Jamie Raskin, a Democrat, also criticised those who were not wearing face masks, and reminded them of the reality of the virus.
"Why is it some kind of macho thing, like 'if I don't wear a mask, I'm tough.' If you want to be tough, go spend the day with the nurses and doctors in the hospitals," he said.
Wearing a face mask has become a point of debate during the coronavirus pandemic, as many conservatives have argued that being forced to wear one goes against their constitutional right.
President Donald Trump has only been pictured wearing one once, and in April said: "I just don't want to wear one."
The attitude has been adopted by some supporters of the president, who feel that by not wearing a mask, they are showing their support for Mr Trump.
In reply to the Subcommittee chair's letter, Mr Scalise said that his Republican colleagues are following advice, by practising social distancing and disinfecting surfaces.
He added: "I understand doctors might look at things differently and want to give even extra precautions, but the precautions that have been out there are clearly being followed."
According to a tracking project hosted by Johns Hopkins University, there are now more than 2.5 million people who have tested positive for coronavirus in the US. The death toll has reached at least 125,824.
Source: https://www.independent.co.uk/news/world/americas/us-politics/coronavirus-face-mask-democrats-congress-republicans-hearings-a9591741.html