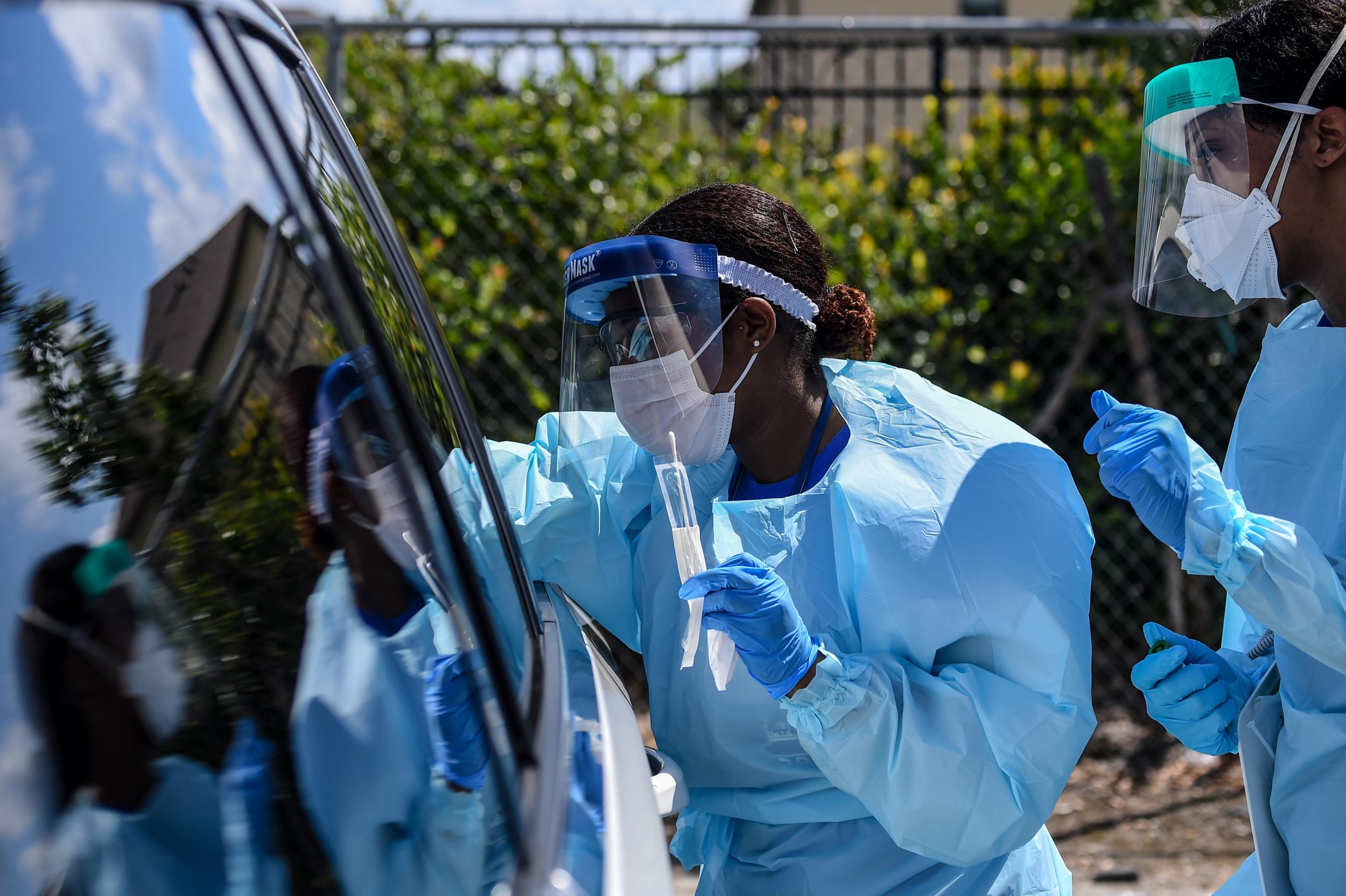 The state of Ohio will try to postpone its primary – scheduled to take place on Tuesday – to try and counter the spread of coronavirus and to allow people to vote in safety.
In the latest instance of how the crisis has already had a drastic and sudden impact on the 2020 political cycle, Ohio's governor said he was asking a court to rule in favour of a lawsuit that would allow people to vote by post, and seek to hold its actual ballot day on June 2.
"We should not force them to make this choice – a choice between their health and their constitutional duties as American citizens," Republican governor Mike DeWine said at a news conference.
Ohio is one of four states scheduled to hold a primary on Tuesday, the others being Florida, Arizona and Illinois.
On Monday, the governors' offices of Florida, Illinois and Arizona's said Monday morning they were pushing forward with Tuesday's voting, even though they are losing polling sites and workers.
Matt Dietrich, spokesman for the Illinois state board of elections, said there was not process to cancel or postpone the vote.
"This is unprecedented so it's not clear exactly what the process would be for changing it, though it likely would involve a request to the attorney general to seek a court order," he said.
Turnout at the polling places is already expected to be light Tuesday as only the Democrats have a contested presidential primary and that is down to two contenders: Joe Biden and Bernie Sanders. 
The most recent polls show Mr Biden, the frontrunner, leading Mr Sanders in all states but margins of 20 points or more. There had been speculation, if Mr Sanders has another disappointing Tuesday, he may end his bid for the Democratic nomination.
On Monday, Donald Trump says he thought it was "unnecessary" to postpone the primary elections, despite his administration urging people to avoid gatherings of more than 10 people.
"Postponing elections is not a very good thing," he said. "I think postponing is unnecessary."
In Florida and Arizona, officials have moved polling places located in nursing homes and assisted living facilities to avoid exposing the residents to outsiders.
In Arizona, the Republican governor and Democratic secretary of state released a video early Monday outlining the steps they're taking to keep voters safe. Those include measures to keep distance between people, frequent hand washing by poll workers and disinfecting equipment regularly. They also asked voters to wash hands before and after visiting the polls.
"It's been a lot of work but it's well worth it because our democracy is worth it," secretary of state Katie Hobbs said in the video.
Broward County, Florida, is stocking its 421 polling locations with extra supplies, including 4,000 rolls of paper towels, gloves and more than 400 bars of soap.
"We've purchased gallons of rubbing alcohol and are having them transferred to spray bottles," said spokesperson Steve Vancore. "We've ordered cases upon case of Clorox wipes so polls workers can frequently wipe down the equipment and wipe down the voting booths."
Following Sunday night's debate between Mr Biden and Mr Sanders, which had no studio audience to limit possible exposure to the virus, the Vermont senator questioned the wisdom of voting two days later.
"I'm thinking about some of the elderly people who are sitting behind the desks, registering people, doing all that stuff. Does that make a lot of sense? Not sure that it does," he told CNN.
Additional reporting by agencies 
Source: https://www.independent.co.uk/news/world/americas/us-election/democratic-primary-coronavirus-ohio-extend-mike-dewine-how-to-vote-cdc-biden-sanders-a9405506.html