The global fatality rate is now over 5 per cent of all reported cases, with countries including the United Kingdom, the United States and Spain reporting a spike in fatalities over recent days.
Around 22 per cent of total cases have been reported by the United States, while Italy and Spain have each reported 11 per cent of global cases.
China, where the virus emerged in December, has reported 8 per cent of total cases globally as the epicentre of the pandemic moved to Europe and the United States.
Europe together accounts for more than half of cases and more than 70 per cent of deaths linked to the virus, as countries in Southern Europe with higher older age demographics are hit particularly hard.
With its healthcare system in dire shape, Spain reported a record one-day number of deaths, 950, bringing its overall toll to about 10,000, despite signs that the infection rate is slowing.
Italy recorded 760 more deaths, for a total of 13,900, the worst of any country, but new infections continued to level off.
More than 10,000 medical personnel in Italy have been infected and 69 doctors have died, authorities said.
Nine leading European university hospitals warned they would run out of essential medicines for COVID-19 patients in intensive care in less than two weeks.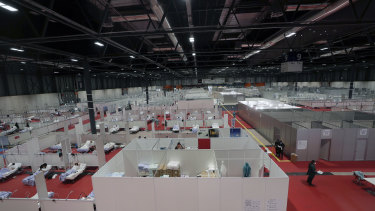 The Spanish government this week issued orders prohibiting home evictions or the cutoff of utilities for failure to pay.
Loading
Spanish Ambassador Santiago Cabanas to the US said the crisis is "putting pressure not just on the health of our citizens, but also on the health of our democracies. . . . Sometimes the decision-making process in our democracies might be perceived as slow an inefficient," he said, "but it is a small price to pay to make sure that citizens can be fully involved."
The coronavirus outbreak has thrown 10 million Americans out of work in just two weeks, the swiftest, most stunning collapse the US job market has ever witnessed, and economists warn unemployment could reach levels not seen since the Depression, as the economic damage piles up around the world.
The bleak news on Thursday – a record-shattering 6.6 million new unemployment claims on top of last week's unprecedented 3.3 million – came as the competition for scarce ventilators, masks and other protective gear seemed to grow more desperate and deaths mounted with alarming speed in Italy, Spain and New York, the most lethal hot spot in the nation, with nearly 2400 lives lost.
Loading
The mounting economic fallout almost certainly signals the onset of a global recession, with job losses that are likely to dwarf those of the Great Recession more than a decade ago.
"My anxiety is through the roof right now, not knowing what's going to happen," said Laura Wieder, laid off from her job managing a now-closed sports bar in Bellefontaine, Ohio.
Source: https://www.smh.com.au/world/asia/global-coronavirus-cases-top-1-million-johns-hopkins-tally-20200403-p54gnj.html?ref=rss&utm_medium=rss&utm_source=rss_world