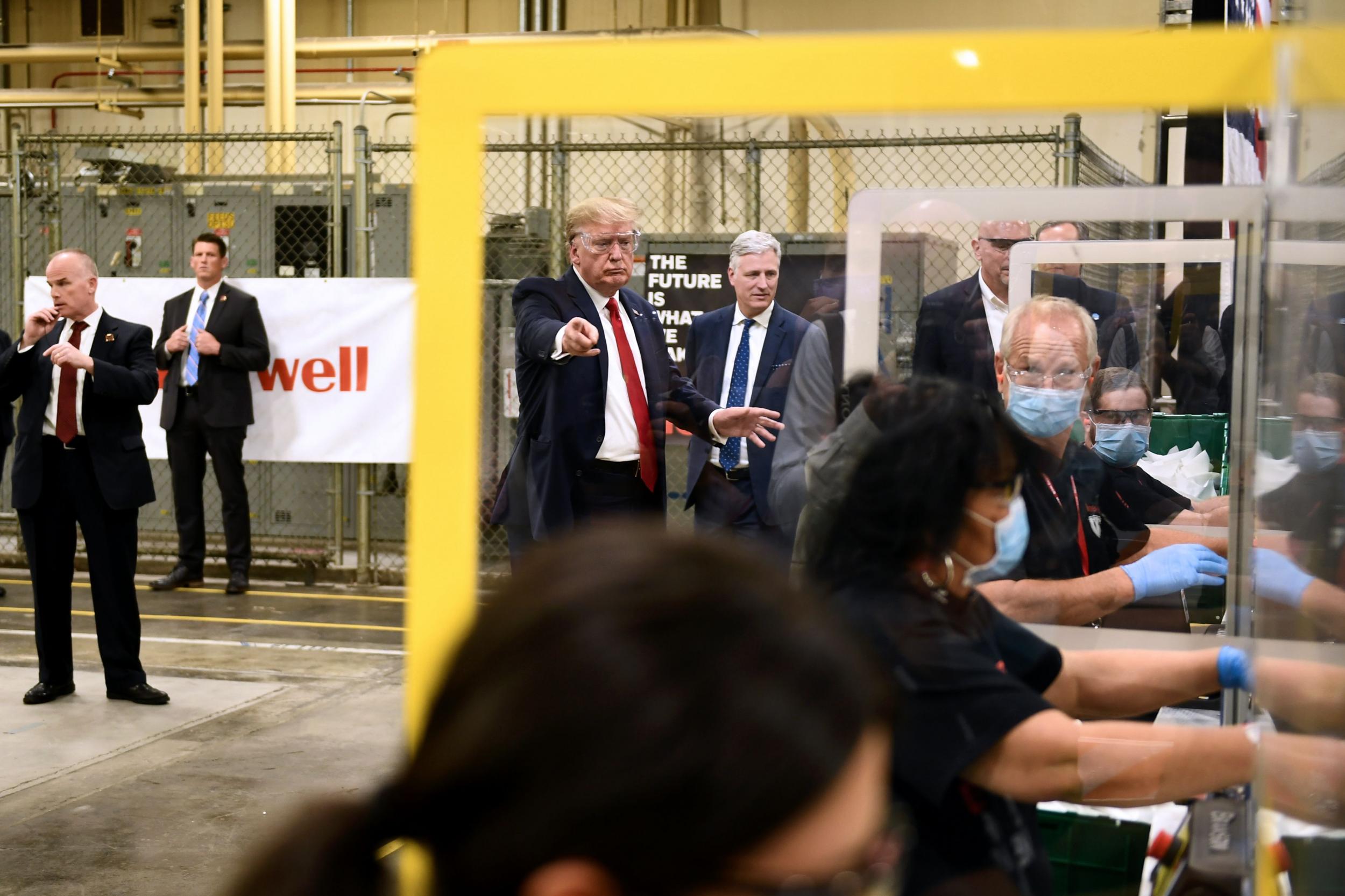 Donald Trump admitted on Tuesday that his push to re-open the United States could lead to the deaths of some Americans from coronavirus, making clear he views an end to the economic crisis is more important than ending the health crisis.
"It's possible there will be some because you won't be locked into an apartment or a house or whatever it is," Mr Trump told ABC News in an interview taped during his trip to Arizona to tour a mask production facility.
"But at the same time, we're going to practice social distancing, we're going to be washing hands, we're going to be doing a lot of the things that we've learned to do over the last period of time," he said.
Download the new Independent Premium app
Sharing the full story, not just the headlines
US unemployment has reached record highs since the outbreak of the coronavirus crisis earlier this year, slowing an economy that Mr Trump planned to make the centrepiece of his re-election campaign.
At a separate event during the Arizona trip, the president was asked if his push to reopen the country meant he was declaring "mission accomplished," like former President George W. Bush did prematurely during the 2003 Iraq conflict.
"No. No, not at all," he said in response to a reporter's question. "The 'mission accomplished' is when it's over."
Still, Mr Trump told the network, in an interview that aired on its "Nightly News" program that job losses outweigh any potential deaths that stem directly from his push that governors end stay-at-home orders in their states.
"Take a look at what's going on," he said. "People are losing their jobs. We have to bring it back, and that's what we're doing."
"We can't sit in the house for the next three years," the president added, even as he said bluntly: "There'll be more death."
The president's top public health officials have said a vaccine might not be ready for 12 months or even 18 months. But that did not stop him from repeating his optimistic estimate about one being deployed soon.
"The virus will pass, with or without a vaccine. And I think we're doing very well on the vaccines but, with or without a vaccine," Mr Trump said. "It's going to pass, and we're going to be back to normal.
But it's been a rough process," he said. "There is no question about it."
Democrats and some public health analysts say the outbreak in the United States, with at least 1.2m infected and at least 72,000 dead, was "rough" because of his and his team's, in their view, ineffective and slow response.
The president was asked by ABC about models by Johns Hopkins University and the University of Washington that show up to 175,000 deaths by August. He again dismissed those studies.
"These models have been so wrong from day one. Both on the low side and the upside. They've been so wrong, they've been so out of whack," he said. "And they keep making new models, new models and they're wrong."
Democrats, again, disagree.
But the president sounded a bipartisan line at one point, echoing New York Democratic Governor Andrew Cuomo when he said, "The people want to get back to work."
And as they begin to do that in some states, the president – panned by his critics for not doing enough to help states obtain testing kits – said this about anyone who wants a Covid-19 test being able to get one: "They should have no problem."
Source: https://www.independent.co.uk/news/world/americas/us-politics/coronavirus-trump-interview-tonight-death-toll-reopen-us-a9500766.html