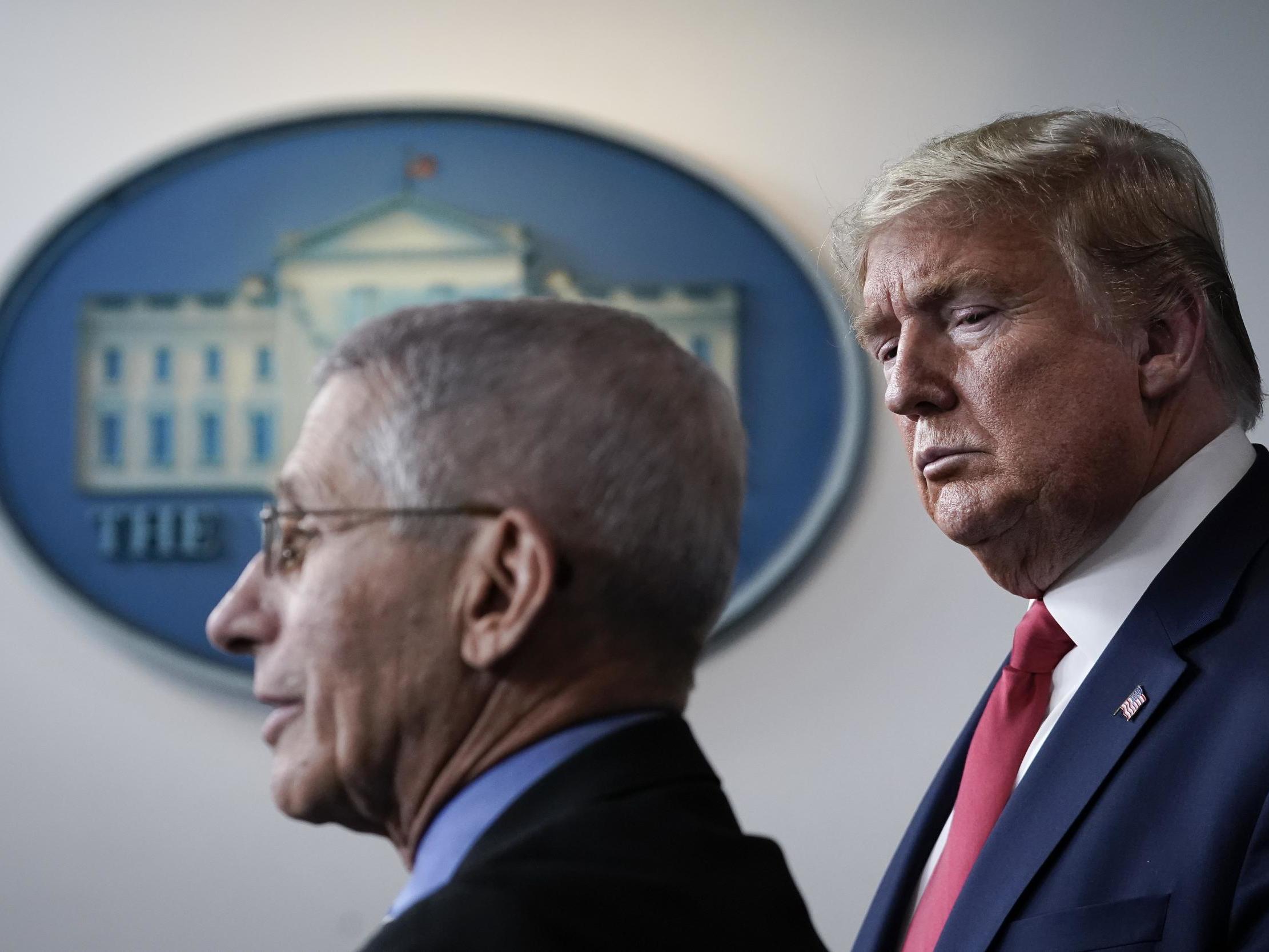 In another heated press briefing at the White House, Donald Trump prevented his top coronavirus adviser from answering a question on the efficacy of an unproven anti-malarial drug that the president has repeatedly promoted as a possible treatment for Covid-19.
Although hydroxychloroquine has not been medically cleared to treat those infected with coronavirus, Mr Trump doubled down in his support for the drug, saying he was not willing to wait a year for the results of testing. "Take it. What do you have to lose?" he told Americans.
But Dr Anthony Fauci, the nation's top doctor on infectious diseases and a key member of the White House task force, insisted there is nothing to suggest the medicine has any genuine benefit against coronavirus.
"In terms of science, I don't think we can definitively say it works," he told CBS's Face the Nation.
"The data are really just at best suggestive. There have been cases that show there may be an effect and there are others to show there's no effect."
During the Sunday press briefing, Dr Fauci was also blocked by the president from answering a question on the medical evidence that supported the use of hydroxychloroquine.
"You know how many times he's answered that question – 15 times," said Mr Trump. "You don't have to ask that question."
"He's answered that question 15 times."
Earlier in the briefing, the president said: "I want them to try it and it may work and it may not work. But if it doesn't work, it's nothing lost by doing it. We know long term that I want to save lives.
"It may not work, in which case, hey, it didn't work. And it may work, in which case, it's going to save a lot of lives. Now a lot of people say if the people walking in prior to getting it if they take it, it has a profound effect – well maybe it does, maybe it doesn't. I don't want to have to wait a year and a half to find out."
Dr Fauci meanwhile warned that the death toll in the coming week is "going to be shocking to some, but that's what is going to happen before it turns around, so just buckle down."
He added that the virus probably will not be wiped out entirely this year, and that unless the world gets it under control, it will "assume a seasonal nature."
"We need to be prepared that, since it unlikely will be completely eradicated from the planet, that as we get into next season, we may see the beginning of a resurgence," he said. "That's the reason why we're pushing so hard in getting our preparedness much better than it was."
The US Defense Department also released new requirements that all individuals on its property "will wear cloth face coverings when they cannot maintain six feet of social distance in public areas or work centers." That is in compliance with new federal guidelines that Americans use face coverings when venturing out.
Mr Trump had said previously that he is choosing not to wear a face mask and scoffed at the idea of using one during his daily press briefings.
"I would wear one," he said, but only "if I thought it was important."
The number of people infected in the US has exceeded 311,000, with the death toll climbing past 8,400; more than 3,500 of those deaths are in the state of New York.
Source: https://www.independent.co.uk/news/world/americas/coronavirus-trump-dr-fauci-press-briefing-white-house-treatment-latest-a9448731.html