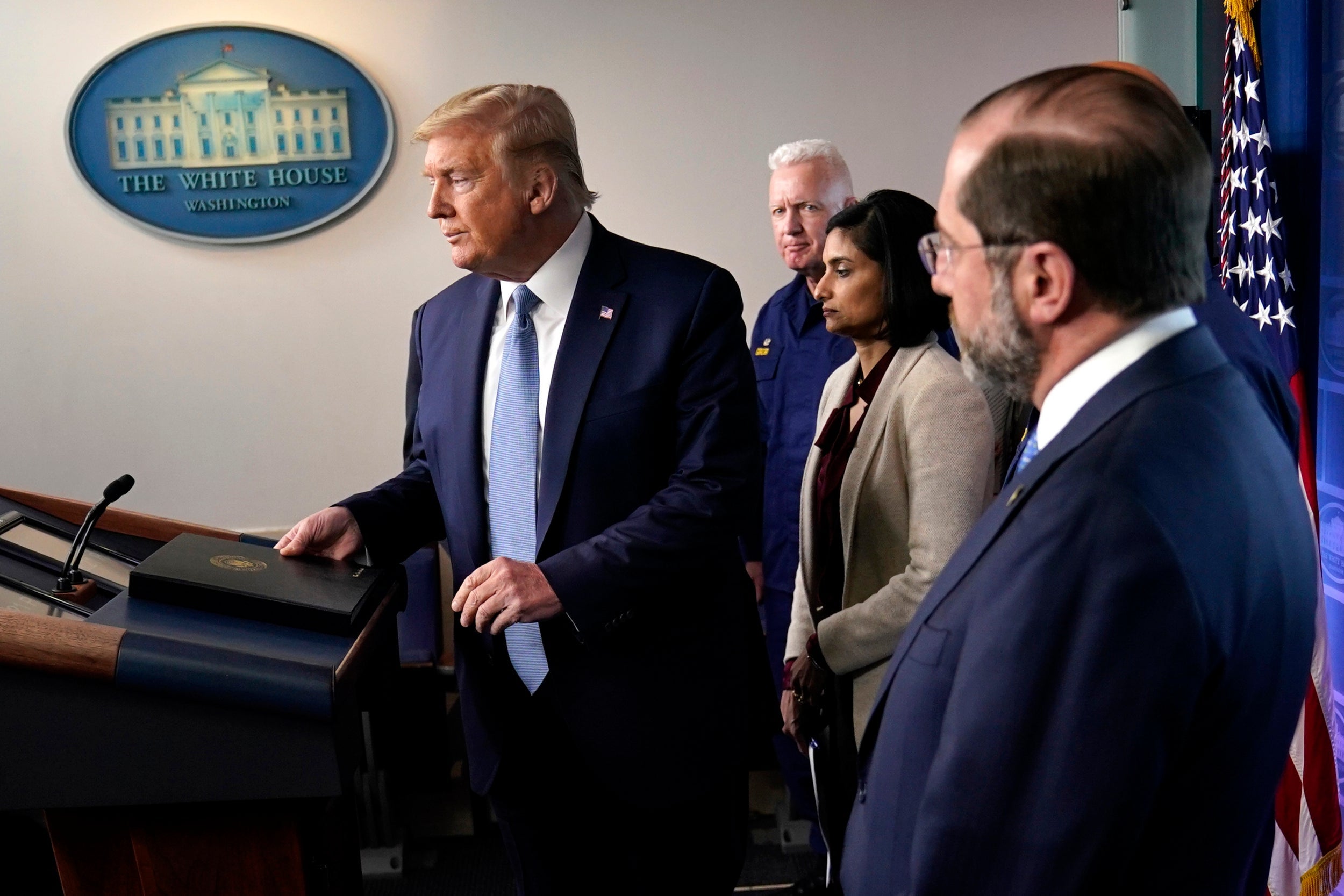 Donald Trump has given his own response to the coronavirus pandemic a perfect rating – at a press conference where he also conceded the virus is "not under control" and announced drastic new public health measures well beyond anything the US has ever tried.
Asked at a White House press conference whether the buck stops with him and how he would rate what the administration has achieved, Mr Trump was not shy.
"I would rate it a ten," he said. "I think we have done a great job." He then said his administration's achievements began with its early decision to bar foreign nationals who had visited China from entering the US.
"It started with the fact that we have kept a very highly infected country, despite all of even the professionals saying it is too early to do this, we were very early with respect to China. We would have a whole different situation in this country if we didn't do that."
On the US's efforts to roll out mass testing, which have been decried as haphazard and slow, Mr Trump was equally positive.
"As far as the testing, the testing we have done, we really took over an obsolete system, a system that wasn't meant to do anything like this, we took it over and we are doing something that has never been done in this country. I think we are doing very well."
Mr Trump gave himself a perfect rating just as he announced dramatic new measures to combat the virus's spread. He advised Americans to avoid gatherings of more than ten people (albeit on a stage with at least seven others around him) – a far more austere instruction than that issued by several states and major cities, which have capped the size of crowds at numbers as low as 25 or as high as 1,000.
But while the president seems to be facing up to the urgent need to combat the disease with all possible measures, he has still had sharp words for certain of his enemies, most recently his old bête noire Andrew Cuomo, governor of New York.
After a call with several governors, Mr Trump tweeted: "Just had a very good tele-conference with Nation's governors. Went very well. Cuomo of New York has to 'do more'."
Mr Cuomo replied: "I have to do more? No – YOU have to do something! You're supposed to be the president." In a later tweet, he went further: "Happy to do your job, too. Just give me control of the Army Corps of Engineers and I'll take it from there."
After the press conference at the White House, Mr Trump resumed his usual Twitter habits, retweeting criticisms of the New York Times and the Democratic presidential candidates.
Meanwhile, the US's coronavirus death toll has passed 80, with more than 7,000 dead worldwide.

Source: https://www.independent.co.uk/news/world/americas/coronavirus-trump-news-us-response-foreign-travel-ban-a9405686.html