19:25
Record daily deaths in Brazil
Brazil confirmed its highest daily coronavirus deaths on Tuesday, indicating that the nation is still in the thick of its battle against the virus, even as some areas of the country are beginning to open up, Reuters reports.
According to the Health Ministry, there have been 6,935 new cases of the novel coronavirus in Brazil since Monday evening and 600 new deaths. The previous record of 474 deaths came on 28 April.
The nation has now tallied 114,715 confirmed cases of the virus and 7,921 deaths, the ministry said, making it by far the hardest-hit country in Latin America.
New cases increased roughly 6.4% from Monday evening, while deaths increased roughly 8.2%.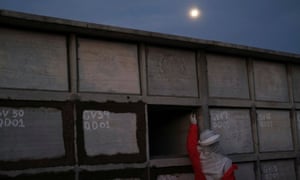 Updated


19:16
Summary
Hello, and welcome to today's live coronavirus news blog with me, Helen Sullivan.
You can get in touch with me at any time on Twitter @helenrsullivan.
As US deaths passed 70,000, accounting for more than a quarter of deaths worldwide, President Donald Trump said while visiting a mass-production facility in Arizona that it was time for businesses to reopen. "Will some people be affected? Yes. Will some people be affected badly? Yes," he said. Meanwhile US daily coronavirus deaths are reportedly projected to double to 3,000 by June.
Meanwhile in the UK more people have died than anywhere else in Europe. More people have lost their lives in the country than anywhere in Europe, and it is the second-worst affected worldwide after the US.
Global confirmed cases exceed 3.65 million. Researchers at Johns Hopkins University say at least 3,651,010 people have been infected since the outbreak began, while at least 256,239 are known to have died. The figures, which are based on official and media reports, are likely to significantly underestimate the true scale of the outbreak.
US death toll surpasses 70,000. At least 70,847 people are now known to have died in the USA, according to the data compiled by Johns Hopkins University. That represents more than a quarter of all pandemic-linked deaths reported across the world.
Britain's death toll from the coronavirus has passed Italy's to become the second-highest worldwide after the United States, and most impacted in Europe.
The White House is looking to wind down task force. Mike Pence has confirmed that the Trump administration is reportedly looking to wind down the coronavirus task force in the coming weeks, even as the rate of new infections continues to rise across most of the US.
Donald Trump said it's time to reopen businesses. Speaking in Arizona, he said, "Will some people be affected? Yes. Will some people be affected badly? Yes. But we have to get our country open and we have to get it open soon." he said.
Top UK adviser resigns over lockdown breach. Professor Neil Ferguson, the epidemiologist credited with convincing the UK government to abandon thoughts of pursuing herd immunity in favour of physical distancing has resigned amid allegations he breached lockdown rules.
The pandemic has cost Walt Disney US$1.4bn in the last three months as it shut down its theme parks around the world and halted film and TV productions, the company has announced.
Italy records lowest increase in cases for two months. Deaths in Italy climb by 236 on Tuesday, against 195 the day before, while the daily tally of new infections stands at 1,075, against 1,221 on Monday. It is the lowest number of new cases for two months.
WHO urges investigation of possible early cases. The recent discovery that a man in France was possibly infected before the virus was even reported to the World Health Organization (WHO) by Chinese authorities has prompted the body to investigate other suspicious cases. The WHO said the findings were not surprising but gave a "whole new picture on everything".
Major foreign travel to be limited this summer – Macron. It is unlikely French people will be able to undertake major foreign trips this summer and even trips within Europe may have to be limited to reduce the risk of a resurgence of the epidemic, said the French president, Emmanuel Macron.
Face masks should be worn on flights in future. The International Air Transport Association, which represents global airlines, says it is recommending the wearing of masks on flights, though normal seat allocation can be maintained.
Virgin Atlantic to cut jobs and quit Gatwick. Virgin Atlantic 28plans to cut more than 3,000 jobsand shut its operations at Gatwick airport.
Majority of new Spain cases among medics. More than 70% of new cases detected in Spain over the past 24 hours are among medical staff, the health ministry says. With the epidemic receding after peaking more than a month ago, Spain has begun moves to ease out of the lockdown.
Israel and Netherlands studies claim progress in antibody trials. Separate studies in Israel and the Netherlands claim to have created antibodies that can block the infection, a potential future treatment touted as a game-changer until a vaccine becomes available.
No guarantee Tour de France will go ahead. "Many people are begging me to keep the Tour even behind closed doors," French sports minister, Roxana Mărăcineanu told France television. "I hope it will take place but I am not sure. We do not know what the epidemic will be like after lockdown."
Source: https://www.theguardian.com/world/live/2020/may/06/coronavirus-update-cases-uk-live-news-us-task-force-trump-covid-19-usa-world-europe-deaths-brazil-brasil-israel