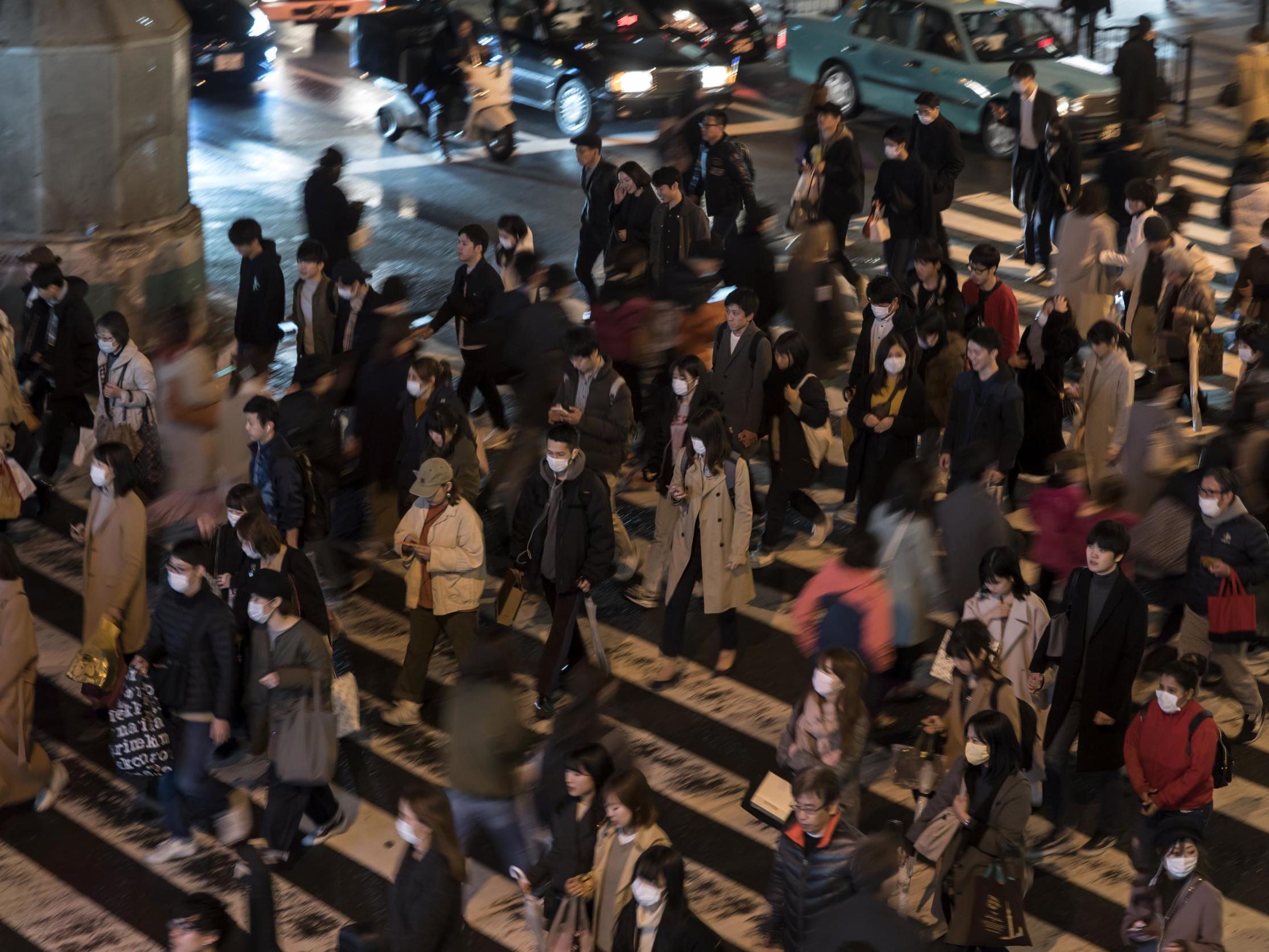 Japan is testing for coronavirus at only a fraction of its capacity despite increasing its ability to do so, prompting concerns the government is not taking urgent enough action to contain its outbreak.
Unseen clusters may be "rapidly increasing where containment is failing", an expert from King's College London has warned, as government data showed it is conducting on average 1,190 people a day – despite having the resources to carry out 7,500.
So far 32,125 tests have been carried out on 16,484 individuals, compared with 200,000 in South Korea, 80,000 in Italy, and 50,000 in the UK.
"Just because you have capacity, it doesn't mean that we need to use that capacity fully," health ministry official Yasuyuki Sahara told a press conference on Tuesday. "It isn't necessary to carry out tests on these people who are just simply worried."
The ministry says it has made it easier for doctors to order the polymerase chain reaction tests, so the figures for the number of tests carried out reflects the discretion of physicians.
Some 868 cases and 29 fatalities have been confirmed, not including those the Diamond Princess cruise ship, public broadcaster NHK reports.
Mr Yasuyuki's defensive comments came after the World Health Organisation urged countries to "test, test, test", insisting this should be the "backbone" of efforts to control the pandemic.
"You cannot fight a fire blindfolded, and we cannot stop this pandemic if we don't know who is infected," the UN agency's director general Tedros Adhanom Ghebreyesus said, warning that without testing cases cannot be isolated and the chain of infection will not be broken.
England's chief medical officer Chris Whitty also defended the UK's testing efforts as "substantial", after Public Health England was reported to have largely stopped testing in the community, focusing instead on those in hospitals with respiratory illnesses.
After concerns over this strategy were raised by former health secretary Jeremy Hunt on Tuesday, the UK's chief scientific adviser Patrick Vallance said "at the moment we simply don't have mass testing available for the population now", and explained there was a "big effort" to establish this.
Despite aiming to increase testing capabilities to 10,000 a day, the UK is to rely on modelling to determine the spread of Covid-19 across the country.
Dr Whitty added the government was "very rapidly" developing a test which shows whether people have previously had Covid-19, which he said would be "transformational".
In Japan, the health ministry has been focusing on clusters of cases, with the biggest around the megacities of Osaka and Tokyo, and in the prefectures of Hyogo, Hokkaido and Aichi.
The ministry's latest cluster map shows 13 such groupings across the country.
But with the rate of testing low, unseen clusters may be "rapidly increasing where containment is failing", said Kenji Shibuya, director of the Institute for Population Health at King's College London.
To increase surveillance without overtaxing hospitals and doctors, Japan should introduce the type of drive-through testing that South Korea has implemented, Professor Shibuya said.
Japanese health authorities have said there was no need for drive-through testing, although NHK reported on Tuesday that health minister Katsunobu Kato said he was open to the idea as a way to keep infected people out of hospital waiting rooms.
Japan has closed schools and cancelled many sporting events, but has refrained from forcing travel, businesses and restaurants to shut – contrasting with the US and most of Europe, which have enacted travel bans and put major cities on lockdown.
Mr Yasuyuki, from Japan's health ministry, said more containment measures may be announced after a Thursday meeting of infectious diseases experts, who have been advising the government.
"We are conducting investigations, collecting data, and based on which, we have consultation with experts to make a decision or judgment," Mr Yasuyuki said.
"So it isn't that we are complacent or we are optimistic."
Additional reporting by Reuters
Source: https://www.independent.co.uk/news/world/asia/coronavirus-japan-testing-cases-deaths-government-who-a9408266.html