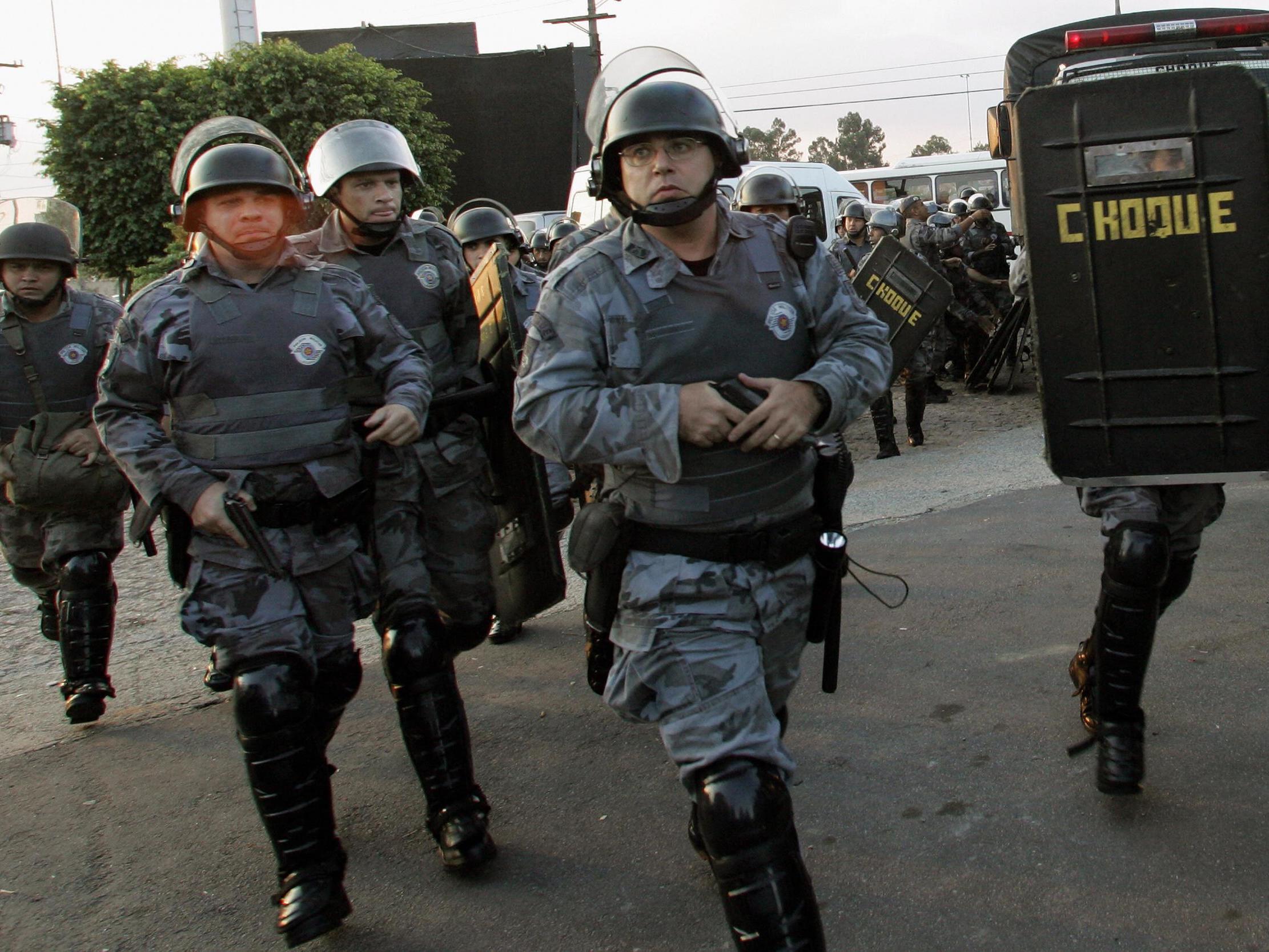 Hundreds of prisoners escaped from four Brazilian prisons after their day-release rights were temporarily revoked and restrictions on visitors tightened due to the country's coronavirus outbreak.
The Sao Paulo state prison authority said in a statement on Monday night that 174 inmates had already been recaptured but admitted it was "still tallying the exact number of fugitives" that had broken free following riots at semi-open jails in Tremembé, Porto Feliz, Mirandópolis and Mongaguá. Local media put the figure at more than 1,500.
Footage on Twitter appeared to show a long line of prisoners fleeing from Mongaguá penitentiary on the Sao Paolo coast, where 400 reportedly fled. Other videos showed riot police attempting to regain control of one prison.
The Sao Paulo state prison authority said "acts of insubordination" had taken place at the jails after it postponed the Easter prison break – one of five annual breaks for prisoners in semi-open regimes who work in the day – because of coronavirus.
"The measure was necessary because the benefit would include more than 34,000 convicts of the semi-open regime who, returning to prison, would have high potential to install and spread the coronavirus in a vulnerable population, generating health risks to servers and custodians," the prison department said.
It later added that riot police "taking care of the situation" had restored control at all four of the prisons, which do not have armed guards under the semi-open programme.
Prison officers taken hostage by inmates had also been released, according to local reports.
"These prisoners were unhappy about the decision that suspended the Easter leave," Lincoln Gakiya, a prosecutor in Sao Paulo state, told the Guardian. "The prisoners were told and in some units, rebelled."
Prison riots in Sao Paulo state are regular occurrences and often result in bloodshed. Last year, 57 people were killed following rioting at a jail in Altamira, one of Brazil's most violent cities.
Gangs such as the Sao-Paulo based First Capital Command (PCC), which traffics guns, drugs and other contraband, have a strong presence within the country's prison estate and are responsible for fuelling much of its violence.
Brazil has a prison population of 234,000 people, of which a third do not have access to a health station in their jail, according to figures from 2017, raising concern over the spread of coronavirus.
As of Tuesday, the country had reported 234 cases of infection.
Addtional reporting by Reuters
Source: https://www.independent.co.uk/news/world/americas/coronavirus-brazil-prison-lockdown-inmates-escape-latest-a9405651.html