"What we're trying to do is help businesses meet the fixed costs of workers without having to let them go," Sunak said. "Whatever we do, we need to make sure it can work fast and quickly."
Loading
The £330 billion government-backed loan program represents about 15 per cent of GDP. Sunak said the low-interest scheme would help businesses pay rent, suppliers and wages instead of going bankrupt as the coronavirus outbreak squeezes the United Kingdom's economy.
In a separate program worth £20 billion, all retail, leisure and hospital businesses will not have to pay rates for a year and many of the smaller firms in those sectors will be handed a £25,000 cash payment.
"Every single shop, pub, theatre, music venue, restaurant… will pay no business rates for 12 months," Sunak said.
The government has also struck a deal with major banks to provide a three-month mortgage holiday for anyone who needs help.
"I know people are deeply worried, I know that people's anxiety about the disease itself is matched only by the anxiety about their livelihoods," Sunak said. He added effective action would require "government interventions in the economy on a scale unimaginable only a few weeks ago".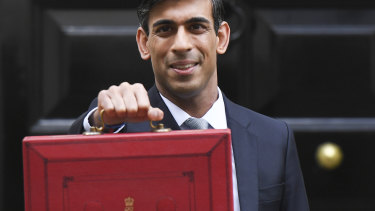 "This is not a time for ideology and orthodoxy. This is a time to be bold, a time for courage. We will support jobs, we will support incomes, we will support businesses and we will help you protect your loved ones."
Chief scientific advisor Sir Patrick Vallance said on Tuesday there were probably already about 55,000 cases of COVID-19 infections in Britain despite the formal tally standing at only 1950.
Health officials are urgently working to free up about one-third of England's 98,000 hospital beds for incoming coronavirus patients and have suspended all non-urgent elective surgery for three months.
Vallance told MPs at Westminster that the government hoped to restrict the death toll to 20,000 but stressed the result would heavily depend on whether the public adhered to social distancing measures and pleas for whole households to self-isolate for two weeks if anyone in the home was symptomatic.
The British government this week shifted its coronavirus strategy to "suppression" following warnings from a team of experts that Britain's favoured "mitigation" approach would overwhelm the National Health Service and lead to 250,000 deaths.
Mitigation focuses on slowing but not necessarily stopping epidemic spread, whereas suppression aims to reverse epidemic growth, reduce case numbers to low levels and maintain that situation indefinitely.
Prime Minister Boris Johnson on Tuesday flagged the possible introduction of more "extreme measures" over the coming days on top of the existing advice for people to avoid non-essential contact with each other and stay away from pubs, restaurants and bars.
Johnson's own father undermined the Prime Minister's advice during a morning television interview in which he said he would defy the public health warnings and continue to drink in pubs.
"Of course I'll go to a pub if I need to go to a pub," Stanley Johnson, told This Morning .
Challenged to explain that stance, he said: "Well, because the people who run pubs need a little bit of people – they don't want people to not be in the pub at all. That's my line."
The government said on Tuesday it would relax planning rules to allow pubs and restaurants to operate as takeaway and delivery services during the pandemic.
Bevan Shields is the Europe correspondent for The Sydney Morning Herald and The Age.
Source: https://www.smh.com.au/world/europe/coronavirus-hit-britian-unveils-670-billion-emergency-economic-response-20200317-p54b5l.html?ref=rss&utm_medium=rss&utm_source=rss_world