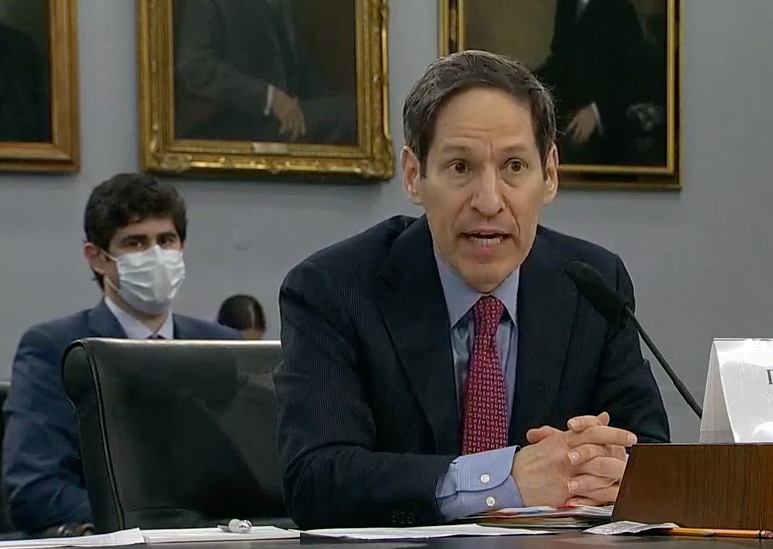 The former director of the US Centres for Disease Control and Prevention has given the House "10 plain truths" about the coronavirus pandemic during a House Appropriations Committee hearing.
Dr Tom Frieden, speaking to the committee, characterised the coronavirus as "scary" and "unprecedented," confessing that in his 30 year career in public health, he'd "never seen anything like this".
Responding to the growing number of conspiracy theories surrounding the nature of the virus, ranging from it being a creation of a Chinese lab to a recently released video of a discredited doctor claiming the coronavirus is just a bad strain of flu from the mid-aughts, Mr Frieden laid out 10 things he says are undeniably true about the virus.
Download the new Independent Premium app
Sharing the full story, not just the headlines
1. New York City has been ravaged by the virus
New York City is the US epicentre of the coronavirus outbreak. Researchers suggest a European-strain of the coronavirus has been spreading in the city since at least February. There have already been 173,288 confirmed cases with 43,676 deaths in the city.
Mr Frieden said that despite there being a significant decrease in the death rate, there are still twice the number of deaths in New York City from the coronavirus than from any other causes combined.
2. We're still in the early stages
More than 33m Americans have filed for unemployment, prompting rent strikes and long lines at food banks. At the same time, far-right groups have mobilised aggressive protests demanding states reopen their economies and lessen social distancing guidelines.
Despite this, Mr Frieden told the House that the US is still in the early stages of the virus's spread.
"As bad as this has been so far, we're just at the beginning," he said. "The bottom line is that our war against Covid-19 will be long and difficult."
3. Information is key to beating the virus
Mr Frieden said data collecting is necessary to give researchers and health experts the information they need to prevent clusters of infection from worsening into full blown outbreaks. By identifying clusters of infection, health experts can then try to cut off further transmission.
"We need clear goals and a clear understanding of what success looks like, so everyone is focused and working off the same plan," Mr Frieden said.
4. Cutting off the virus is essential, which means more social distancing
"Sheltering in place is a blunt but effective weapon; it suppresses spread of the virus but inflicts severe hardship on individuals and the economy," Mr Frieden said. "To shorten the time of sheltering and to reduce the risk we will have to retreat again into our homes, we need to deploy all of the effective weapons in our arsenal."
As states like Florida and Georgia begin to reopen and states across the nation prepare for limited re-openings, Mr Frieden emphasised the need to continue the practices meant to prevent mass spread of the virus, even after the curve begins to flatten.
In what he dubbed the "Box it in" strategy, Mr Frieden suggested four tactics for isolating and defeating the virus; aggressive testing, the isolation of infected individuals, contact tracing and two week quarantines for people who have had contact with infected people.
5. A balance between public and economic health has to be maintained
Mr Frieden said that protecting the public and protecting the economy are not mutually exclusive goals. Health researchers recommend that the US conduct 3.5m coronavirus tests per week before choosing to reopen the economy. That level of testing would allow health professionals to track and respond to clusters. Currently, the US is testing 1.6m people per week. That is an increase over the US's testing efforts in the early days of the virus, but still far from what is necessary to safely reopen the country.
"The new normal will require redesigning processes – how we do things – as well as redesigning our physical environment," he said. "This is the design and engineering challenge for our society, and I'm excited to learn about innovations that will keep us safer."
6. Frontline and essential workers need continued protection
Mr Frieden called for the protection of "healthcare workers and other essential staff – the frontline heroes of this war" during the hearing.
Several lawmakers, including Senator Mitt Romney and Congressman Tim Ryan, have proposed plans for hazard pay intended to directly benefit front-line healthcare workers and essential service workers.
"They shouldn't have to put their lives at risk to care for us," Mr Frieden said.
In a positive development, New York governor Andrew Cuomo reported that healthcare workers in New York were not becoming sick at higher rates than the public.
7. At-risk people need more protection
Mr Frieden warned that urgent action was necessary to protect the elderly and other vulnerable populations as the pandemic continues to spread throughout the US.
"Nursing homes and other vulnerable congregate settings house approximately 4 million people in the United States," he said. "Unless we take urgent action, at least 100,000 residents of America's nursing homes will die in the next year, and there could potentially be hundreds of thousands of deaths in all congregate facilities, including among those who work in these locations."
Elderly care facilities in Sweden – where the government decided to remain open and issued advisories for people to practice social distancing – have seen substantial death due to the coronavirus.
He also noted that the communities of people of colour – especially African American, Native American and Hispanic individuals – were in need of more protection after suffering disproportionately from the virus.
8. The private and public sector must partner to make vaccines and treatments
The former CDC director called on the government and on private companies to pull their resources and develop a vaccine for the virus, specifying that they should be available quickly and fairly to everyone in the world.
"As is currently being done, governments and private companies must join forces to make massive, continued investments in testing and distribute a vaccine as soon as possible, ensuring rapid and equitable access in this country and around the world," he said. "Nothing else will enable life to get back to a pre-Covid normalcy."
Two drugs – a treatment drug developed by Gilead called "remdesivir" and a potential coronavirus vaccine being developed at Oxford University – are the most notable pharmaceutical developments in the fight against coronavirus.
9. People have to take their non-coronavirus health issues seriously
Mr Frieden noted that underlying health conditions significantly increase the risk of severe illness or death in Covid-19 patients, and called for people to take steps towards improving their personal health – like getting more exercise or stopping smoking. He also called for the preservation of normal healthcare meetings.
"We need to preserve health care services despite the pandemic. We must take steps to avoid people postponing care for strokes and heart attacks, delaying cancer diagnosis, or deferring essential preventive care because of fear of Covid-19," he said.
10. We can never again be so unprepared
He concluded his meeting with the committee by calling on the country's leaders to never again allow such an unprepared response to a global health threat. Mr Frieden said that though future outbreaks are inevitable, the impotent response to the pandemic is not.
Part of that preparation, he argued, was sustainable funding for health organisations and agencies within the US government, including the CDC. He proposed a "Health Defence Operations" budget designation that would put fewer bureaucratic hurdles in the way of health organisations seeking appropriations from the budget.
"You have a unique opportunity to protect Americans from future pandemics. If you take strategic action now, you can protect our country from another inevitable microbial sneak attack," Mr Frieden said. "If we as a society fail to do this, we will remain unprepared both domestically and abroad, shortchanging our health and economic security and costing American lives."
Source: https://www.independent.co.uk/news/world/americas/us-politics/coronavirus-thomas-frieden-cdc-house-appropriations-committee-a9504841.html