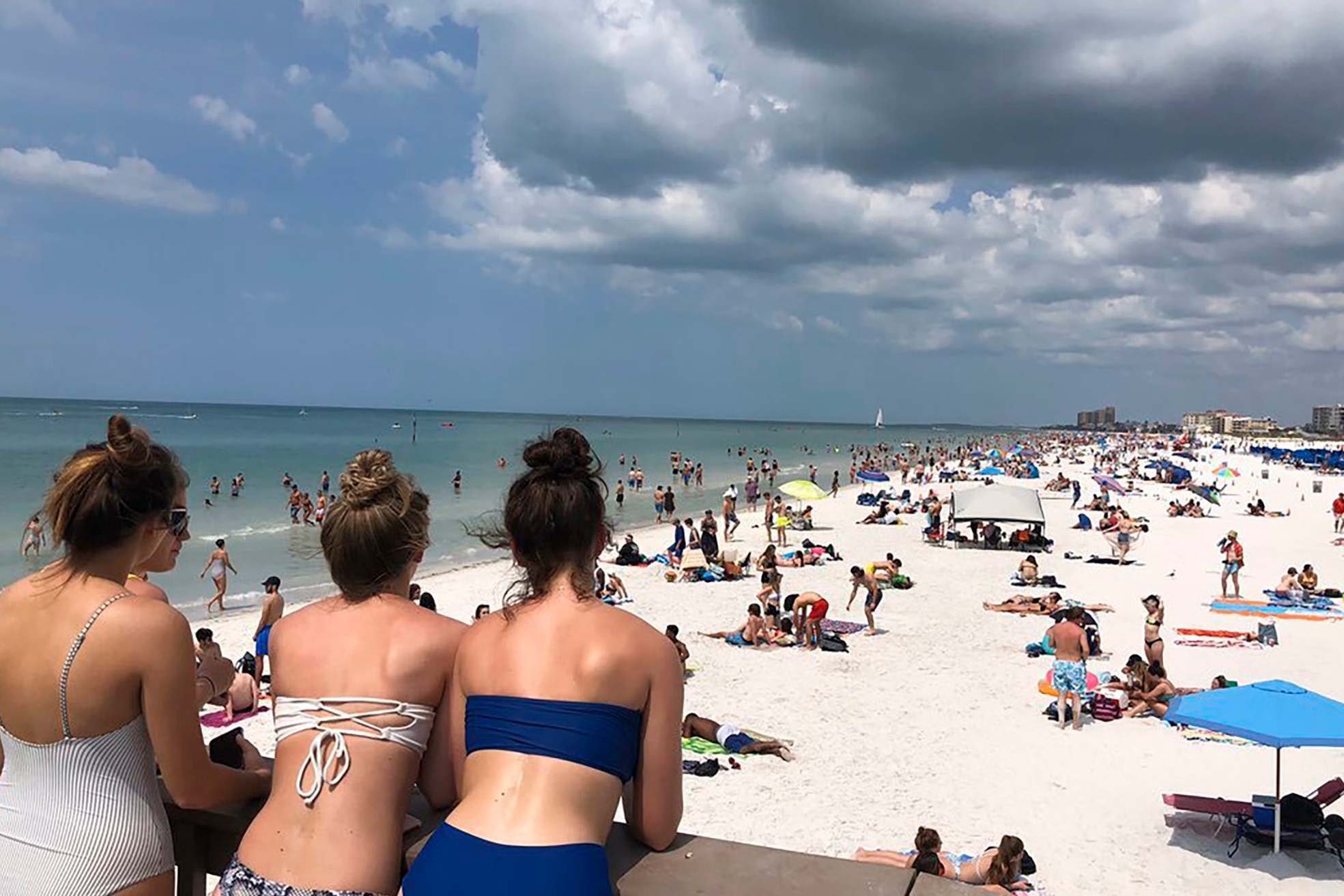 Spring Break crowds have packed Clearwater Beach, Florida, despite advice to practice social distancing amid the coronavirus outbreak. 
Aerial footage seen on WFLA News Channel 8 showed crowds along the length of Clearwater Beach, in Florida's Tampa Bay area at the weekend as President Donald Trump urged Americans to avoid gatherings of more than 10 people.
Hundreds of visitors to Clearwater Beach appeared to ignore Mr Trump's call for people to avoid discretionary travel and eating in bars, restaurants and public food courts.  
On Saturday, President Donald Trump used Twitter to urge Americans to start "SOCIAL DISTANCING!". 
The west coast beach has remained open during spring break alongside other Tampa Bay beaches as the number of coronavirus cases rise in the state of Florida. The state's health officials confirmed on Monday that there were 161 cases, with a concentration in the south of Florida. 
That comes as the Mayors of Miami Beach and Fort Lauderdale Beach in South Florida used a joint press conference at the weekend to announce that both beaches would close from Sunday until April 12.  
Measures now in place in Fort Lauderdale include the banning of gatherings of more than 250 people, and the closure of bars, nightclubs and restaurants by 10pm, as well as limiting such venues to a 50% capacity.
Officials in the city of Clearwater are due to vote on similar measures to restrict or ban access to Clearwater Beach on Thursday.  
The Mayor of Fort Lauderdale, Dean Trantalis, said: "If we are to continue to take this matter seriously and to try and flatten the curve of the spread of the coronavirus, we have to take bold yet responsible measures to limit large gathers,".
"We have to do everything possible to minimize crowds and unfortunately, our beautiful beaches must be part of that plan," he added.
Miami Beach Mayor Dan Gelber meanwhile said Florida could not become a "petri dish" for the virus, and that "Spring break is over. The party is over."
Source: https://www.independent.co.uk/news/world/americas/us-politics/coronavirus-us-trump-florida-beaches-gatherings-video-a9406061.html