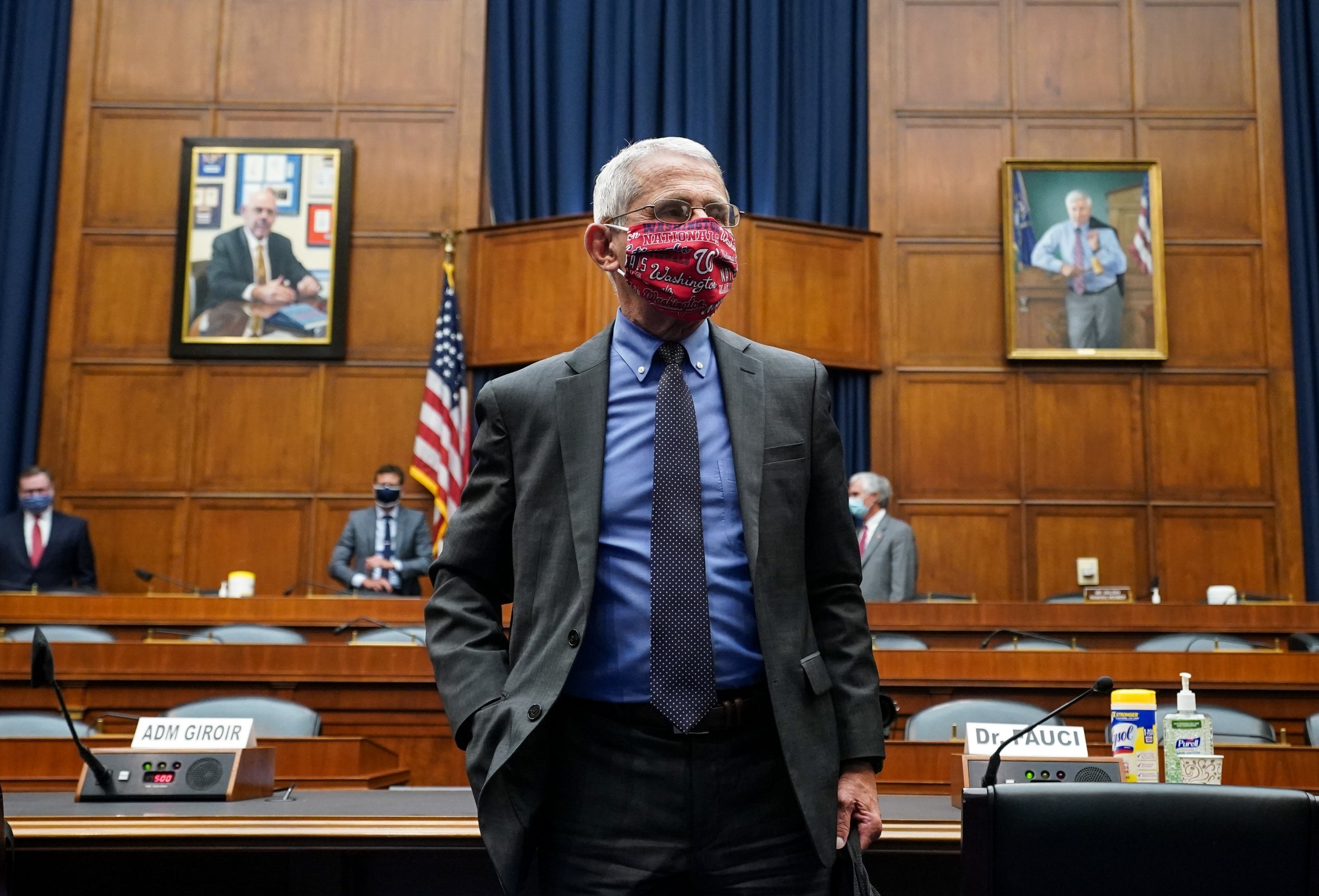 Dr Anthony Fauci has warned that the US may see 100,000 new coronavirus cases a day during a Congressional hearing.
The government's top infectious diseases expert said that the spike in areas of the country like the south and the west are putting the "entire country at risk".
"We are now having 40-plus thousand new cases a day. I would not be surprised if we go up to 100,000 a day if this does not turn around," Dr Fauci said. "And so I am very concerned."
States including Florida, Texas and California have seen record rises in cases in recent days, leading governors to pause and in some cases reverse reopening measures.
As he was giving evidence to a Senate committee, the European Union announced a number of countries it would allow people to enter from as it loosens its own restrictions – while it included nations like Canada, Australia, Rwanda and Algeria, it excluded the US, along with Russia and Brazil.
Dr Fauci said: "Clearly we are not in total control right now, I am very concerned because it could get very bad." He said there was "no guarantee" that efforts to develop a safe and effective vaccine would be successful.
More than 2.6 million Americans have been infected with the coronavirus, and about 129,000 people in the US have lost their lives to it.
Dr Robert Redfield, the director of the Centers for Disease Control and Prevention, also gave testimony during the hearing.
He said the agency was busy preparing a public education blitz to build confidence in the US public for an eventual coronavirus vaccine.
The health officials claimed they needed the programme to build "vaccine confidence" among those who view the government and vaccines with scepticism.
"I think it's very important that we have an integrated plan for this vaccine," Mr Redfield said.
According to Dr Fauci, the education programme will be implemented at vaccine trial sites. "It is a reality: a lack of trust of authority, a lack of trust in government, and a concern about vaccines in general."
He said it was not just anti-vaxxers who were sceptical of the government but warned that on-the-ground community engagement would be necessary to earn the trust of poor and minority communities where people have "not always been treated fairly by the government".
Dr Stephen M Hahn, the commissioner of the Food and Drug Administration, pressed the importance of the public's confidence in any forthcoming vaccines.
"Public confidence in vaccines is so important. We have an obligation to use all of our scientific knowledge, regulatory framework to ensure that any vaccine that comes before us, whether for authorisation or approval, meets our stringent standards for safety and effectiveness," Mr Hahn said.
Vaccines are being developed under President Donald Trump's "Operation Warp Speed", an accelerated production programme aiming to have at least 300 million doses of a vaccine ready by the beginning of 2021.
The FDA has worked to counter public fears that the accelerated vaccine development process might result in a more dangerous or less-tested treatment.
The presumptive Democratic presidential candidate, Joe Biden, launched a fresh attack on Mr Trump's "historic mismanagement" of the pandemic, arguing he could have saved lives and the economy by acting earlier to control the virus.
"It didn't have to be this way," the former vice president said in a speech in Delaware, in which he unveiled an updated plan to tackle the pandemic, including more testing and hiring at least 100,000 contract tracers. "Donald Trump failed us."
Additional reporting by Reuters
Source: https://www.independent.co.uk/news/world/americas/coronavirus-anthony-fauci-100000-cases-covid-19-united-states-a9594336.html