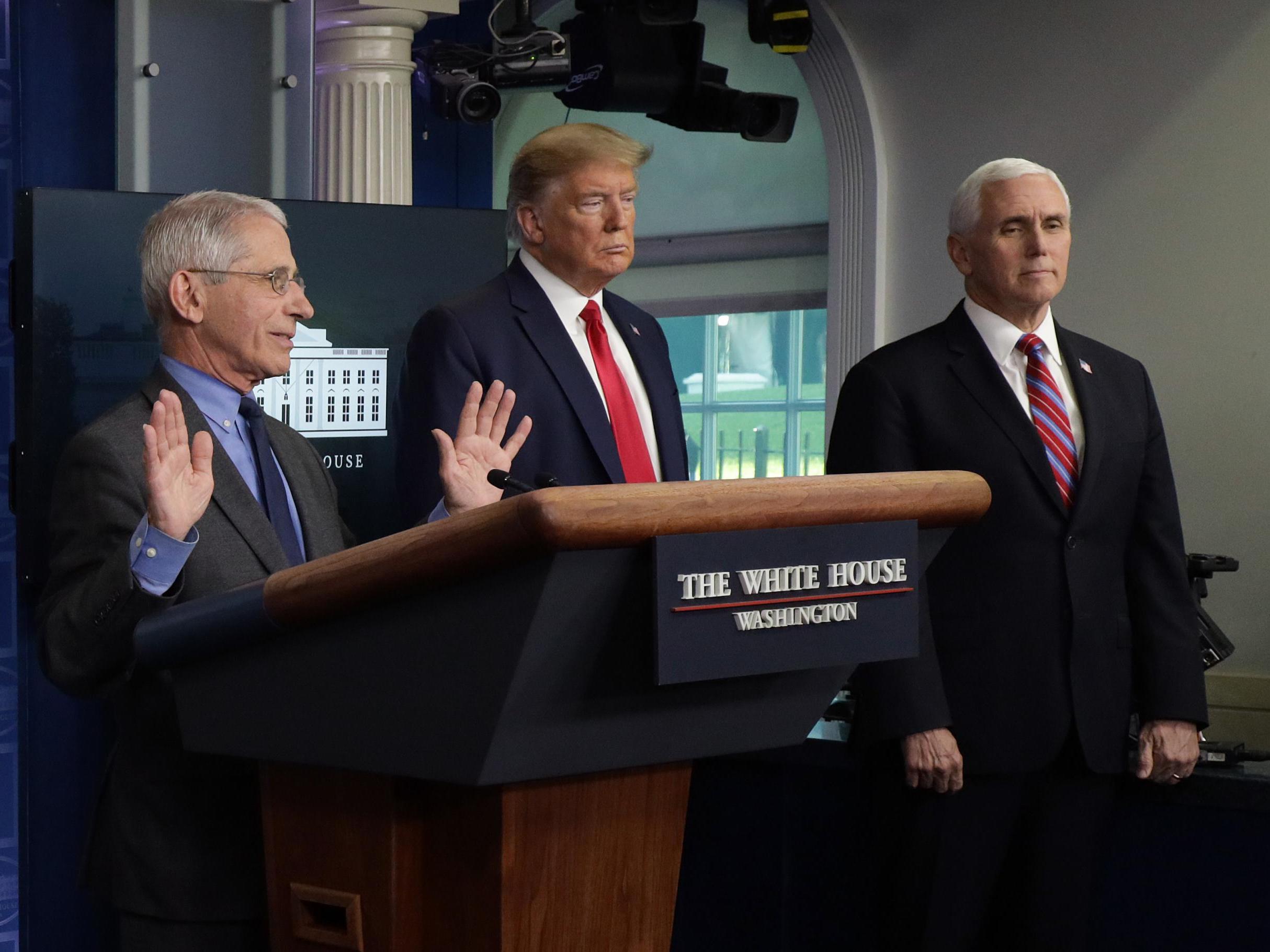 A member of the White House coronavirus response task force has poured cold water over claims the pandemic was the result of an accident at a Chinese lab — as the president continued promoting the theory.
Dr Anthony Fauci, director of the National Institute of Allergy and Infectious Disease, said in a new interview he did not believe Covid-19 escaped from medical research facilities in Wuhan, China as Donald Trump has suggested, and noted how scientific evidence points to animal-to-human transmission for the cause of the global outbreak.
"If you look at the evolution of the virus in bats and what's out there now, [the scientific evidence] is very, very strongly leaning toward this could not have been artificially or deliberately manipulated," Dr Fauci told National Geographic in a wide-ranging interview published on Monday. "Everything about the stepwise evolution over time strongly indicates that [this virus] evolved in nature and then jumped species."
Download the new Independent Premium app
Sharing the full story, not just the headlines
The comments came as Mr Trump and several of his top advisers continued to assert the virus could have escaped during a study at a lab in Wuhan, with US Secretary of State Mike Pompeo claiming there was "enormous evidence" to support the theory.
Mr Pompeo has not made such evidence public. He was later forced to walk back additional comments in which he said "experts seem to think [coronavirus] was manmade", when he was confronted with a statement from the US Intelligence Community released a week earlier refuting those exact claims.
Conspiracy theories about the virus escaping from a Wuhan lab have mounted in recent weeks after the president appeared to support them during a recent White House press briefing. Some claimed the virus was genetically-engineered within the lab, while others said it was involved in some sort of experiment-gone-wrong.
Dr Fauci did not support either of those theories, according to National Geographic.
The infectious disease expert also spoke to the publication about the "information deluge" that has come with Covid-19 and featured outlandish conspiracies — including the Wuhan lab.
"It's like drinking from a fire hydrant", he said about the apparent overload of information surrounding the pandemic.
"Fortunately for me, I have a staff of three to four really good people who sift through the papers and when something looks unreasonable or 'pie in the sky,' they don't bother me with that," Dr Fauci continued. "Then when all of these studies come across my desk, I read the title and the abstract. If it looks feasible, I'll put it aside and try and read it. When it's something that they think I should read, they make sure I read it."
He added: "Even with that screening process, it's still very difficult to consume everything that's out there, particularly with this relatively recent trend with these non-peer-reviewed, pre-publications [that have not gone through traditional vetting to appear in major journals]."
Mr Trump has meanwhile continued endorsing unscientific and incorrect theories about treating the virus. During one of his most controversial briefings yet, he suggested the idea of injected disinfectants or ultraviolet rays to help patients suffering from the novel virus.
Experts swiftly refuted the theory and condemned the president for promoting such unverified claims.
Source: https://www.independent.co.uk/news/world/americas/coronavirus-fauci-trump-china-lab-wuhan-conspiracy-theory-white-house-a9499726.html