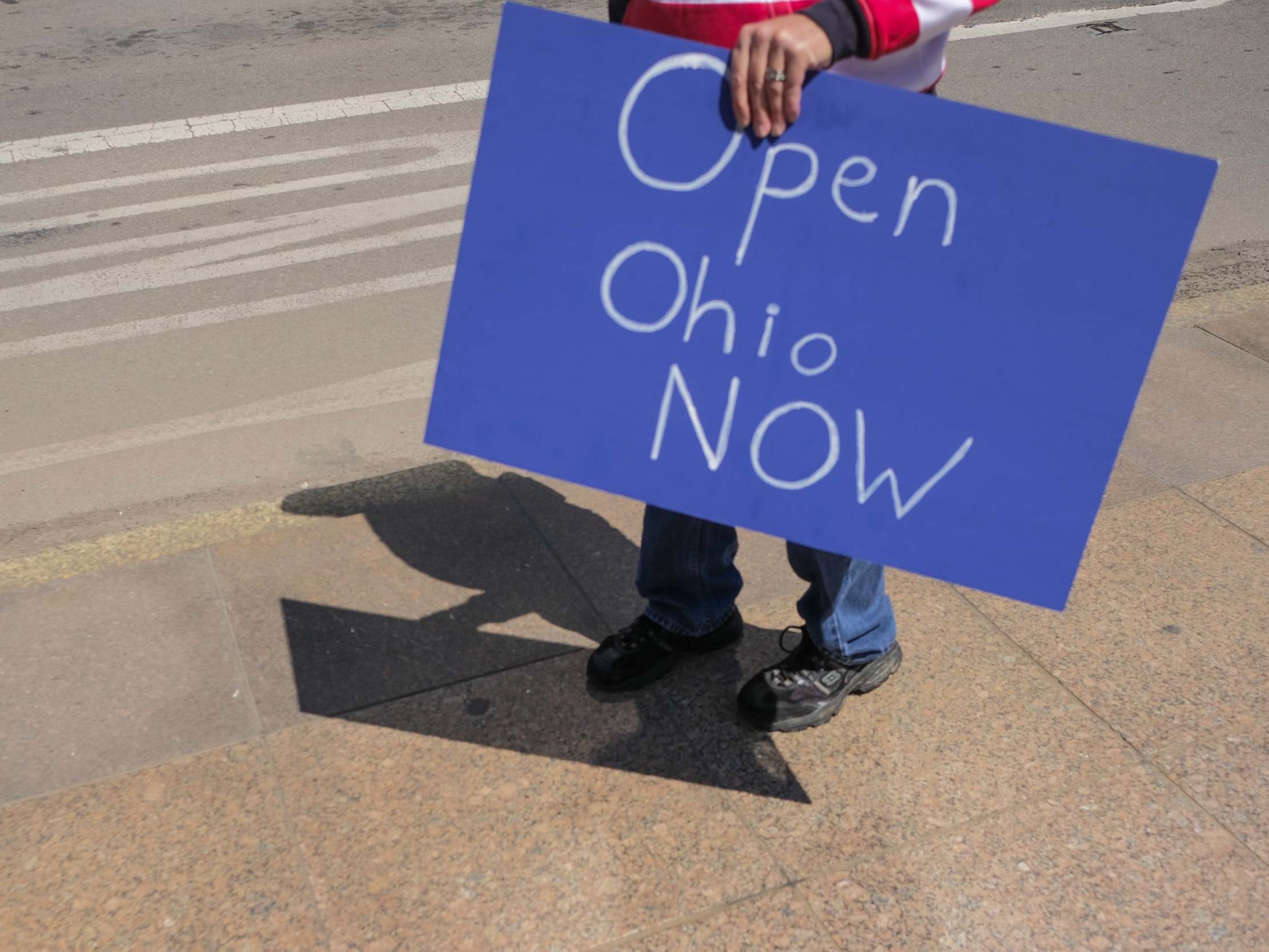 Authorities in Ohio have told companies in the state that workers who do not show up once their job becomes available again should be reported.
Some non-essential businesses began to reopen on Monday, including building companies, as part of a staggered reopening plan outlined by governor Mike DeWine last week.
That came three days after elective procedures were permitted in Ohio hospitals for the first time in weeks.
Download the new Independent Premium app
Sharing the full story, not just the headlines
Businesses, meanwhile, were told on Friday that employees who refused to return to work will not be eligible for unemployment benefits.
Ohio's Department of Job and Family Services said in an email that employees should be reported if absent from work, so that the state could reevaluate their position.
"Ohio law prohibits individuals from receiving unemployment benefits if they refuse to accept offers of suitable work, or quit work, without good cause," read the email, obtained by Cleveland.com.
"If you have employees who refuse to return to work or quit work, it's important that you let the Ohio Department of Job and Family Services (ODJFS) know so we can make accurate eligibility determinations," the email continued.
Employers were also encouraged to visit a website portal where reports of absent workers could be submitted.
Ohio Department of Job and Family Services director Kimberly Hall said on Monday that companies need to be transparent and communicate the steps they are taking to protect workers, reported Cleveland.com.
Employees who do not return to work when it becomes available again will face an administrative review process to determine their eligibility for benefits, added Ms Kimberly.
Texas governor Gregg Abbott announced similar measures last week as his state also began a phased reopening on Monday.
According to state authorities, the Texas Workforce Commission (TWC) will start assessing whether or not unemployment claimants have chosen not to return to work.
Workers in Texas will have to prove that they meet certain criteria, which include being at high risk from coronavirus exposure.
On Monday, 2.1 million Texas had filed for unemployment since the start of the Covid-19 pandemic, whilst claimants in Ohio have passed one million.
Retail and customer service shops in Ohio are set to reopen when more restrictions are lifted on May 12, potentially leaving workers deciding between returning to work or losing state assistance.
Some polls in the state have shown that there is little enthusiasm for an immediate reopening of restaurants, retail and other non-essential businesses.
Source: https://www.independent.co.uk/news/world/americas/us-politics/coronavirus-ohio-lockdown-work-business-mike-de-wine-a9499641.html