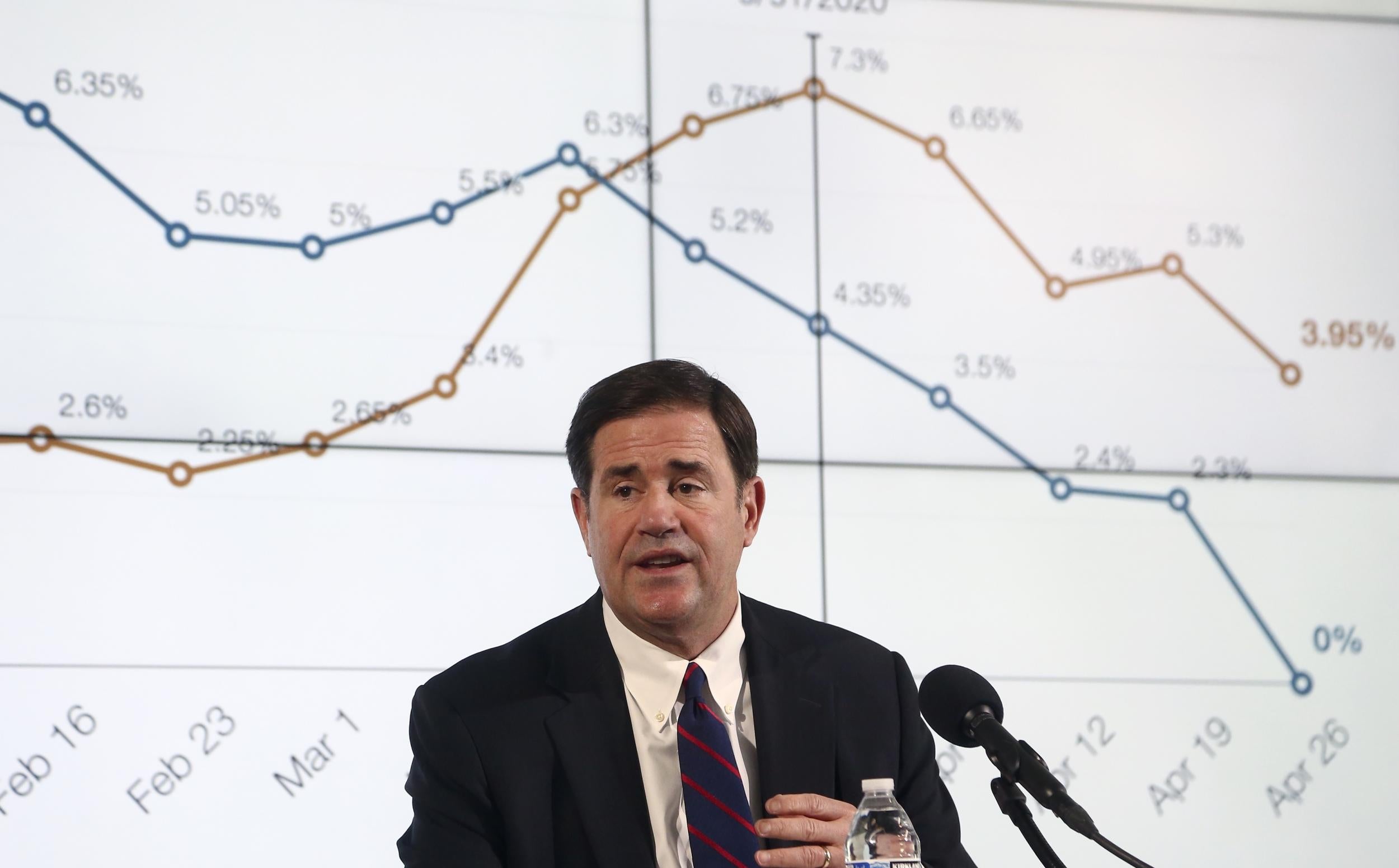 Despite promises that the state would make decisions based on data, Arizona has ended its partnership with a group of scientists who predict that the virus has not yet reached its peak.
Republican Governor Doug Ducey has announced that restrictions on some businesses would be lifted soon, saying that the state is "headed in the right direction".
However, the team of experts projects that the state is not heading in the direction that Mr Ducey believes it is, and that the peak of coronavirus cases has not yet been reached — it may be at least two weeks away, on 22 May.
Download the new Independent Premium app
Sharing the full story, not just the headlines
However, on Monday night — the day before President Donald Trump visited the state — the Arizona state health department shut down the work of the group, composed of 23 volunteer specialists from the University of Arizona and Arizona State University.
Steven Bailey, bureau chief for public health statistics at the Arizona Department of Health Services, said in an email to the group: "We've been asked by Department Leadership to 'pause' all current work on projections and modelling," The Washington Post reports.
The instruction came just hours after Governor Ducey announced that he was lifting some of restrictions placed on businesses to stop the spread of Covid-19.
From Friday, barbershops and salons can resume services by appointment, with occupancy restrictions and improved sanitation protocols including cloth masks. From Monday, restaurants and coffee shops can allow customers to dine-in, again with limited occupancy.
Arizona has been under a stay-at-home order since 30 March, which had been extended until 15 May just a week ago, before the governor appears to have changed his mind. He had previously said: "We've earned where we are today, and we are not going to undo this."
Instead of the recommendations of the group of academics, authorities say they will rely on "real-time" data and modelling from federal agencies such as the Federal Emergency Management Agency (FEMA).
Dr Cara Christ, director of the Department Health Services, told The Arizona Republic that that data "is really representative of where we are" and that the volunteer team has been asked to pause "for a little bit".
President Trump has pushed for states to begin to reopen parts of their economies, while also acknowledging during his visit to Phoenix on Tuesday that "some people will be affected badly".
By Thursday, Arizona had 9,707 confirmed cases of coronavirus and had recorded 426 deaths, according to data aggregated by Google.
Source: https://www.independent.co.uk/news/world/americas/us-politics/arizona-reopen-lockdown-coronavirus-governor-doug-ducey-data-a9504526.html