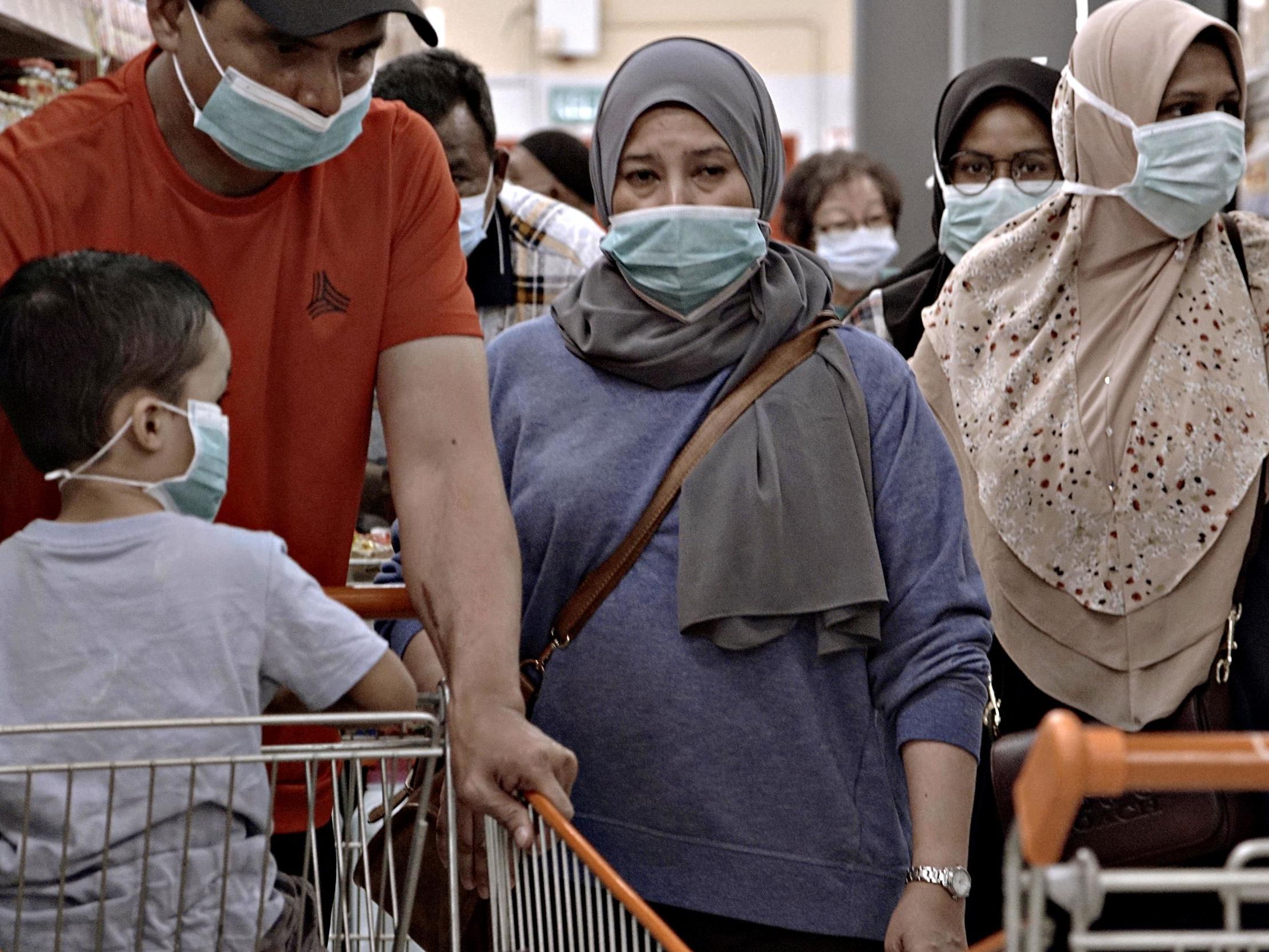 The World Health Organisation (WHO) has made an urgent call for Southeast Asian countries to step up "aggressive measures" to fight coronavirus, after the number of confirmed cases and deaths rose sharply in the region.
Nearly every country in the region has confirmed cases of the highly contagious COVID-19, except Laos and Myanmar.
Malaysia holds the highest number of infections with 790 cases as of Wednesday – a 117 rise in 24 hours. Majority of the infections have been linked to a religious event attended by over 16,000 people in the capital of Kuala Lumpur.
Dr Poonam Khetrapal Singh, regional director of WHO Southeast Asia Region, said: "The situation is evolving rapidly. We need to immediately scale up all efforts to prevent the virus from infecting more people.
"More clusters of virus transmission are being confirmed. While this is an indication of an alert and effective surveillance, it also puts the spotlight on the need for more aggressive and whole of society efforts to prevent further spread of COVID-19.
"We clearly need to do more, and urgently," he added.
People were encouraged to practice hand hygiene and social distancing, as well as self-isolate as it would be "the most important community intervention to reduce the burden on health system and reduce virus transmission".
As the number of cases surged in Malaysia over the course of the last week, the government enacted restrictive measures on movement on Monday, which are expected to stay in place until the end of March.
Malaysian citizens are banned from travelling abroad and foreign visitors will be restricted from entering the country. Malaysians returning from overseas must self-quarantine for 14 days.
The Philippines has also implemented strict measures and have locked down Luzon, the country's most populous island where the capital Manila is situated, placing about 50 million people under "enhanced community quarantine".
All shops and offices have been closed except supermarkets, convenience stores, pharmacies, medical clinics, hospitals and banks.
State news agency, Philippines News Agency (PNA), reported the government placed the country under a "state of calamity" for six months in order to open an emergency fund.
There are 187 confirmed cases and 14 deaths in the Philippines.
In Myanmar, state counsellor Aung San Suu Kyi claimed there were no cases of COVID-19. However, experts have cast doubt over the country's claim, who have accused the Burmese government of "denial".
Human Rights Watch Asia deputy director, Phil Robertson, said: "Astonishingly, government spokesperson Saw Htay pronounced that the absence of reported infections to date is due to Myanmar's 'lifestyle and diet'.
"He added that because Myanmar citizens generally paid for purchases with cash instead of credit cards, they were unlikely to spread the virus
"Such irresponsible statements clash with everything known about the coronavirus outbreak, defy reality, and only serve to give a false sense of security to the country's people about the disease and their risks of infection."
Mr Khetrapal said: "We need to be geared to respond to the evolving situation with the aim to stop transmission of COVID-19 at the earliest to minimise the impact of the virus that has gripped over 150 countries in a short span of time, causing substantial loss to health of people, societies, countries and economies.
"Urgent and aggressive measures are the need of the hour. We need to act now."
Source: https://www.independent.co.uk/news/world/asia/coronavirus-southeast-asia-cases-deaths-malaysia-pandemic-who-a9408181.html