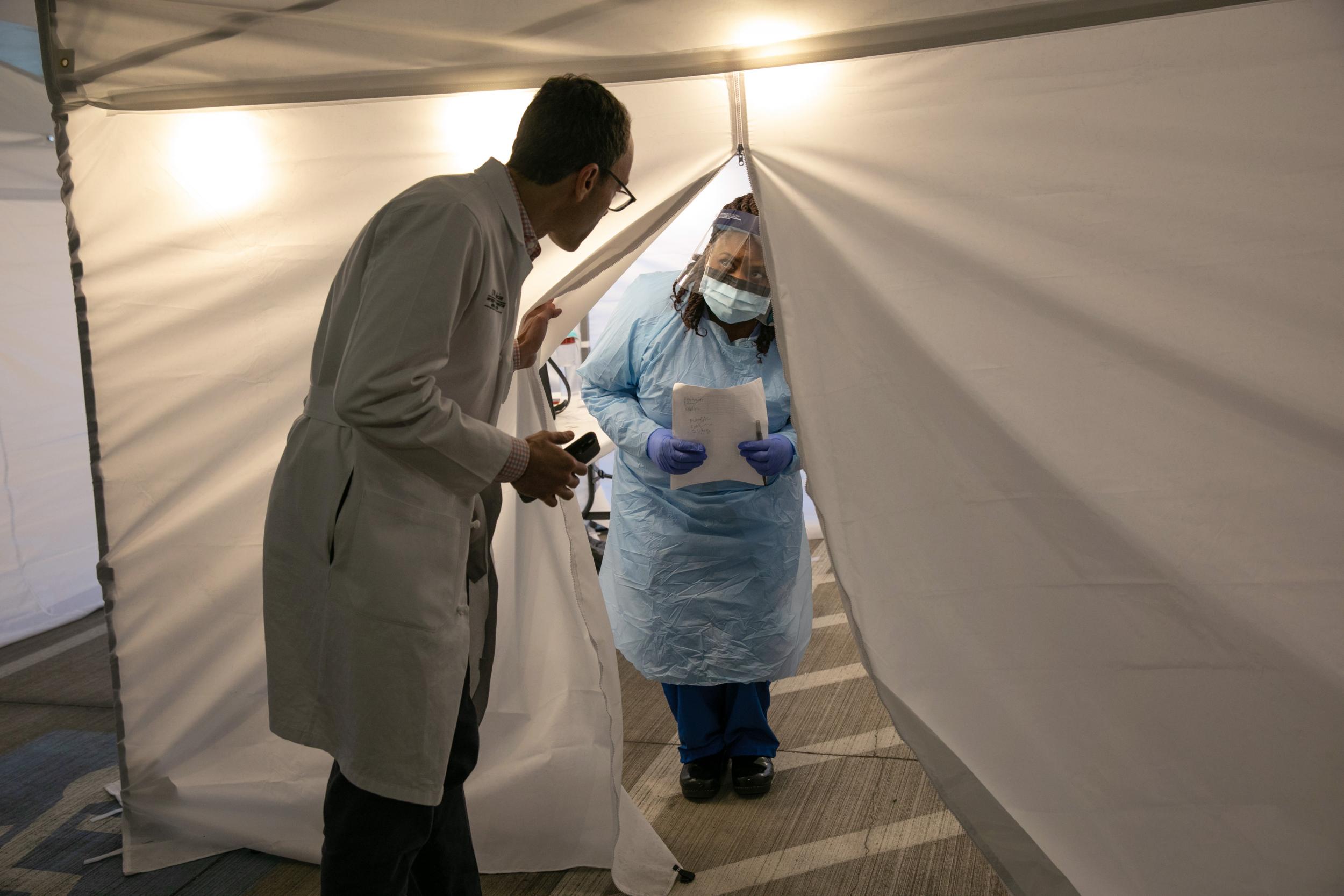 An estimated 200 Connecticut nurses are unable to work after coming in contact with someone with Covid-19, the state's governor says. 
Connecticut Governor Ned Lamont spoke to MSNBC's Chris Hayes about how the coronavirus has impacted hospitals, specifically the locations being unable to test nurses so they can go back to work. 
"I can tell you Danbury Hospital is already at capacity, and they have 200 nurses who are on furlough because they were in contact (with someone with Covid-19)," Mr Lamont said. 
"If I could test those nurses, I could potentially get them back into the game a lot sooner," he added.
Danbury Hospital is treating the state's first coronavirus patient. One staffer there, who lives in New York, has also tested positive for the virus. 
The news anchor appeared shocked by the admittance that hundreds of nurses were off the job because they were unable to receive necessary testing. 
"Wait a second," Mr Hayes said. "You've got 200 nurses sitting on the sidelines right now who can't get back to work because they can't be tested to confirm whether or not they have the virus?" 
The governor said the state was experiencing a "surge in use" for testing. "I'm losing nurses by the day who have to furlough themselves for a period of time," he said. 
"That's a priority for testing for me," he added. "Our testing capacity is going up but it's going up very incrementally and that's dangerous."
The Independent contacted Danbury Hospital for a comment about its capacity situation amid the coronavirus outbreak. 
The hospital released a statement on Twitter stating it had capacity to treat all patients. 
"We have capacity at Danbury Hospital to treat illness and injury including Covid-19. We continue to take all necessary precautions to ensure the safety of our staff and patients.  Specimen collections from pre-screened individuals for those that meet criteria will continue," the statement read.
Mr Lamont also amended his claim on Twitter that the hospital was at capacity. 
"@NuvanceHealth has been on the front lines since day 1 with our first case in the state and I know they're doing the right thing for their patients and staff. Sharon, New Milford, Norwalk, and Danbury Hospitals are doing the right thing by their patients … And Danbury now has capacity to conduct alternate site testing. It's another system responding to this growing health emergency," he wrote. 
But he said the availability of testing still needed improvement to benefit hospital workers and residents. 
"Moral of the story: we need more testing which will give us more information on how to fight this virus, and then we can make our patients and residents safer," he added.
President Donald Trump and his administration has received backlash for the lack of testing initially available across the country. An estimated 50,000 people have been tested for the virus, according to the Covid Tracking Project. This compares to the 10,000 people South Korea is testing per day. 
When speaking at a press conference, Mr Trump responded to the lack of testing and said the delays were not his fault. "I don't take responsibility at all," he said.
Source: https://www.independent.co.uk/news/world/americas/coronavirus-connecticut-nurse-test-hospital-covid-19-a9406726.html