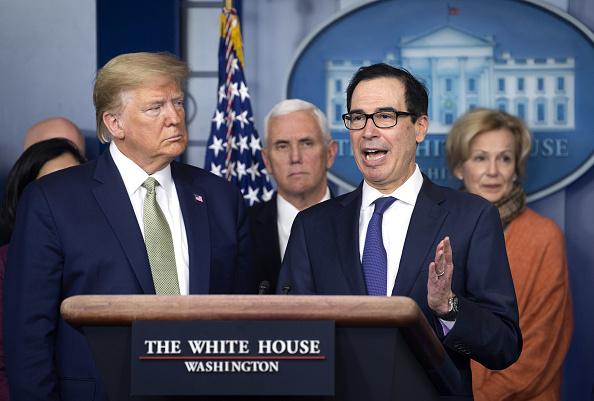 The US could see an unemployment rate of 20 per cent because of coronavirus, Treasury Secretary Steven Mnuchin has warned. 
According to Bloomberg News, Mnuchin outlined the devastating economic impact in a closed-door meeting with Republican senators. 
He outlined the numbers as a worst-case scenario and urged lawmakers to take swift economic action to see it off. 
Several layoffs have already been made across the country as businesses have closed and society has near- shuttered in response to the global coronavirus pandemic. 
A Treasury Department spokeswoman told Bloomberg that Mnuchin used 'several mathematical examples' in the meeting with senators 'but he never implied this would be the case'. 
His comments came as West Virginia confirmed its first case of coronavirus – becoming the 50th state in the US to be forced to confront the deadly pandemic.
Confirming the case in an announcement on Tuesday afternoon, Governor Jim Justice said about the spread of the virus: "We'll get through this. We'll win."
The governor also announced that all restaurants, bars and casinos throughout the state would be closed as testing continued to be rolled out to patients exhibiting symptoms associated with the illness, including respiratory issues, pneumonia and a mild fever, similar to those of the flu.
Earlier in the day, Donald Trump praised West Virginia for not having any confirmed cases and said during a press briefing that "Big Jim, the governor, must be doing a good job" in handling the outbreak.
The state was the last to become officially impacted by the pandemic after its senator, Joe Manchin, complained about the lack of testing in an interview with CNN on Monday.  
Source: https://www.independent.co.uk/news/world/americas/us-politics/coronavirus-us-unemployment-rate-trump-mnuchin-jobs-wages-a9407956.html