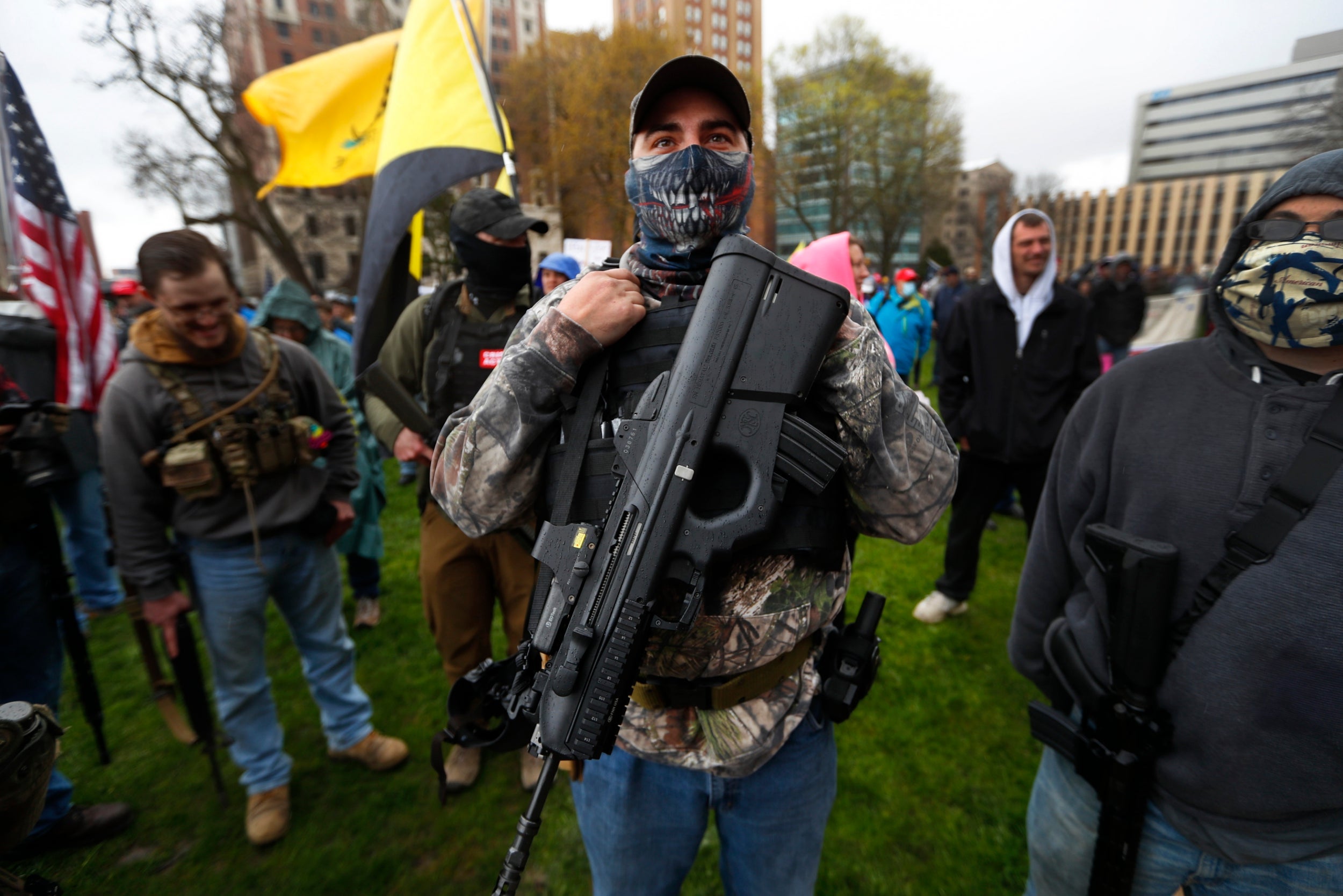 Michigan Governor Gretchen Whitmer has criticised the stay-at-home protesters who stormed the state's Capitol on Thursday, saying they represent the "worst racism and awful parts" in US history.
Her heated comments came when appearing on CNN's State of the Union on Sunday to discuss the coronavirus pandemic in Michigan and how some residents have responded to current stay-at-home measures.
"There were swastikas and Confederate flags and nooses and people with assault rifles," she said about the recent protest. "Some of the outrageousnesses of what happened at our Capitol depicted some of the worst racism and awful parts of our history in this country."
Download the new Independent Premium app
Sharing the full story, not just the headlines
After the protest, which was called "American Patriot Rally" and was organised by Michigan United for Liberty group, President Donald Trump defended the people.
"The Governor of Michigan should give a little, and put out the fire. These are very good people, but they are angry. They want their lives back again, safely! See them, talk to them, make a deal," he wrote.
But Ms Whitmer has maintained her position on restrictions put in place during the pandemic.
"That's a small group of people when you think of about the fact that this is a state of 10 million people, the vast majority of [whom] are doing the right thing," she said, adding the protesters were "not representative of who we are today."
"The fact of the matter is we are in the global pandemic. This is not something we negotiate ourselves out of and is a political matter, this is a public health crisis that has taken the lives of almost 70,000 Americans," Ms Whitmer said.
The governor extended Michigan's stay-at-home orders through 15 May and authorised the extension of the state's declaration of emergency through executive order after the Republican-lead Legislature refused to approve it.
But she's also become more lenient in other areas as hospitalisation and death rates decline, including allowing golfing and curbside pickup at businesses.
Hundreds of protesters gathered outside the Michigan Capitol Building in Lansing on Thursday to protest stay-at-home measures and implore lawmakers to lift them. People carrying guns later entered the Capitol, causing some lawmakers to fear for their safety.
State Senator Dayna Polehanki, a Democrat, tweeted that some of her colleagues were so concerned about armed demonstrators in the Capitol that they decided to wear bulletproof vests to work.
"Directly above me, men with rifles yelling at us. Some of my colleagues who own bulletproof vests are wearing them. I have never appreciated our Sergeants-at-Arms more than today," she wrote, sharing an image of men holding guns in the Capitol.
When contacted by The Independent, the senator shared a picture of her colleague Senator Sylvia Santana, a Democrat, wearing a bulletproof vest and face mask while working.
Michigan is seventh among the states that's been most impacted by the coronavirus pandemic. It's reported more than 43,500 infections and 4,069 deaths.
Source: https://www.independent.co.uk/news/world/americas/lockdown-protestors-michigan-capital-gretchen-whitmer-coronavirus-racism-a9498286.html